San Lorenzo keeper Pablo Migliore remains in jail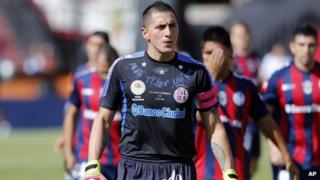 The goalkeeper of Argentine first division club San Lorenzo has appeared in court in Buenos Aires, after being arrested on suspicion of aiding and abetting an alleged murderer.
Pablo Migliore has refused to testify and will remain in jail.
Migliore's lawyer, Matias Morla, reaffirmed his client's innocence and said he would wait until Wednesday to request his release.
Migliore, 31, was arrested when he came off the pitch on Sunday.
"The crime he is charged with allows for his release," said Mr Morla.
"The next 48 hours will be crucial. We will then need to wait for a decision by the judge, which could take 10 days. In the meantime, he will remain in prison," said Mr Morla.
Hooligans
Mr Migliore, who played for Boca Juniors until 2008, is suspected of aiding Maximiliano Mazzaro, a member of a group of hardcore Boca Juniors fans.
Police are searching for Mr Mazzaro on suspicion of murder.
Prosecutors say he is a leading member of a notorious Boca Juniors "barra brava", a group of supporters which has in the past been linked to hooliganism and violent behaviour.
Mr Mazzaro is wanted in connection with the 2011 death of 56-year-old Ernesto Cirino, who died of injuries sustained during a beating in a neighbourhood row.
Police suspect Mr Mazzaro and two other leading members of the supporters group of carrying out the attack.
They say they have evidence linking Mr Mazzaro, who is on the run from them, to Mr Migliore.
San Lorenzo Club President Matias Lammens said Mr Migliore had been surprised by his arrest just minutes after Sunday's game at San Lorenzo's Pedro Bidegain stadium against Newell's Old Boys.
"He wasn't expecting this; we'll ask for his release and the club will respect his contract," Mr Lammens said.