Colombian football team taken off US sanctions list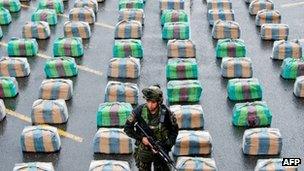 The US Treasury has removed the Colombian football team America de Cali from its blacklist of groups or individuals deemed to have links to illegal drugs cartels.
The club was added to the list in 1999 because it was under the control of leaders of the notorious Cali cartel.
The US Treasury said the team had now broken links with the criminal group.
The Cali cartel was responsible for sending thousands of tonnes of cocaine to the US and Europe in the 1980s.
The inclusion of America de Cali in the US's Specially Designated Nationals and Blocked Persons (SDN) list meant US nationals could not do business with it and any assets it may have had in the US were blocked.
It also meant the team could not play in the US.
"Today's lifting of the designation of America de Cali is a testament of the enormous efforts made in recent years by both the team and the Colombian government to completely break with the criminal influences that have overshadowed the team in the past," said Under Secretary for Terrorism and Financial Intelligence, David S Cohen.
America de Cali recently completed a restructuring process under the supervision of the Colombian government.
The club, from the city of Cali, has won Colombia's national championship 13 times - the last time in 2008. But it slid into the second division in 2011.
The Cali cartel under the leadership of Miguel and Gilberto Rodriguez Orejuela dominated cocaine exports to the United States in the 1980s.
Both were imprisoned in Colombia in the 1990s and later extradited to the US, where they are serving long prison sentences.
Related Internet Links
The BBC is not responsible for the content of external sites.