US blacklists Honduran 'drug lord' Chepe Handal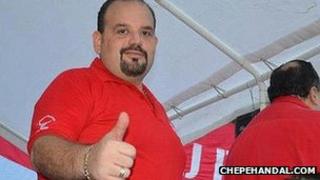 The United States Treasury has frozen any assets held in the US by the alleged leader of a Honduran drug-trafficking organisation.
The US Treasury accused Jose Miguel Handal Perez, known as "Chepe Handal", of smuggling cocaine from Colombia and Venezuela to Mexican drug cartels.
Mr Handal and his family have been banned from doing any business with US citizens and companies.
He has denied the accusations.
"They fell on me like a bucket of water. We are trying to clarify the situation, as we do not know where they originate," he told the AFP news agency.
His wife, Ena Elizabeth Hernandez Amaya, and his father, Jose Miguel Handal Larach, have also been blacklisted by the US Treasury.
They were listed under the US Foreign Narcotics Kingpin Designation Act.
"Chepe Handal plays a critical role in the transportation and distribution of drug shipments between South America and the Sinaloa Cartel and Los Zetas," Office of Foreign Assets Control Director Adam Szubin said in a statement.
Much of the cocaine produced in South America is now smuggled through Central America before it reaches Mexico and consumers in the US.
Mr Handal, 38, is running for Congress in November's general elections for the Liberal United Front (FUL Toro).
"I have decided to enter politics for the first time because Honduras is facing one of the worst crises of its history," says Mr Handal in his website.
He blames the crises on the "lack of conscience and social awareness" of established politicians in the impoverished Central American nation.
'Clandestine airstrips'
The Handal family owns several companies in the Honduran city of San Pedro Sula, near the border with Guatemala.
"Handal invests in and co-ordinates the receipt of drug-laden aircraft departing from Apure, Venezuela into Honduras via clandestine airstrips," says the US Treasury statement.
"He also facilities the movement of these drug shipments out of Honduras by land to Guatemala, where members of Los Zetas and the Sinaloa Cartel take possession."
Mr Handal was charged with drug dealing in Florida in 2011, the US Government says.
The leader of the Sinaloa Cartel, Joaquin "Shorty" Guzman Loera is Mexico's top drug dealer and America's most wanted man.
Guzman and many of his relatives also have their assets in the US frozen by the Treasury.