Mexico government says drug-related murders down by 14%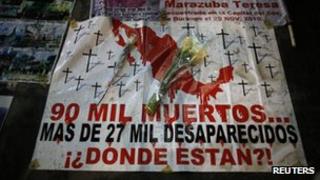 Mexico's government says there have been fewer drug-related murders in Mexico since President Enrique Pena Nieto came to power on 1 December 2012.
It said the number of drug-related killings between December and April had fallen by 14% compared to the same period a year earlier.
Mr Pena Nieto says the fight against crime is one of his main priorities.
Shortly after coming into office he announced the creation of a new police force.
'Early days'
Government spokesman Eduardo Sanchez said 4,249 people had been killed by organised crime gangs between 1 December 2012 and 1 April 2013, a fall of 14% compared to the same four months a year earlier.
The government of former president Felipe Calderon stopped releasing figures of drug-related violence in September 2011, but Interior Minister Miguel Angel Osorio Chong said the federal government had continued to keep a tally.
"The idea is to be transparent about the figures and our methodology, so that organisations, academics, experts and the press can evaluate them for themselves," Mr Osorio said at a news conference.
Mr Osorio said kidnappings had dropped by 25% in the last four months compared to the months of August to November 2012, but he warned that it was "too early to assume victorious attitudes" in the fight against organised crime.
He said 184 members of the security forces had been killed in the line of duty since 1 December 2012, nine more than in the previous four months.
Mr Osorio said that in the coming days he would reveal more details about the creation of the new police force, one of Mr Pena Nieto's campaign promises,
The government announcement came as police and gunmen engaged in a series of armed clashes in the western state of Michoacan in which at least 14 people were killed.
Michoacan has seen a surge in violence as a drug cartel calling itself the Knights Templar fights rival gangs and the security forces.