Colombia seizes drug lord Madman Barrera's properties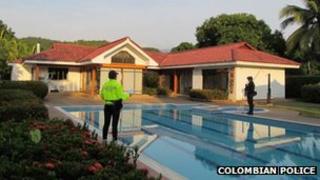 Police in Colombia have seized almost 300 properties belonging to one of the country's most notorious drug lords, Daniel Barrera - known as The Madman.
Among them are luxury villas, cattle ranches, restaurants and bars in the capital, Bogota, and eastern Colombia.
Police also detained four of his relatives on suspicion of money laundering.
Barrera was arrested last year in neighbouring Venezuela while he was making a call in a public phone booth.
Counter-narcotics officers said they had occupied the properties during a four-day joint operation with the US Drug Enforcement Administration.
The operation followed three years of investigative work in which the officers identified commercial and private properties and goods belonging to Barrera, his immediate family, and his middlemen.
The largest property was a 2,600-hectare (26sq km) ranch in a rural part of eastern Meta province. Police also seized luxury apartments, more than 150 farms used for pasture, and 15 lorries and armoured cars.
Officers estimated the combined value of the properties at almost $28m.
Barrera was arrested in Venezuela in September 2012.
He had gone to extraordinary lengths to disguise his appearance, having plastic surgery and burning his fingertips with acid to avoid being identified through fingerprinting.
He only ever used public telephones to communicate with his family and allies, in an attempt to avoid his calls being traced.
It was this habit which finally led to his arrest when The Madman used one of 69 public phone booths Venezuelan police were monitoring as part of their investigation into his whereabouts.
He is currently in jail in Colombia awaiting extradition to the United States, where he is wanted on charges of drug trafficking and money laundering.
He was convicted on drugs charges in Colombia in 1990 but escaped less than eight months into his sentence.