Venezuela: Challenges facing Maduro in post-Chavez era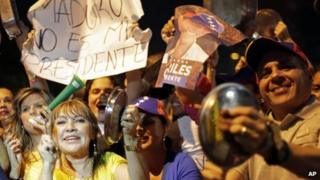 Venezuela's opposition will be protesting against Friday's inauguration of Nicolas Maduro as the new president by playing salsa music and banging pots and pans in their homes.
The cacerolazo, as it is commonly known here, has become Venezuela's opposition platform of choice to voice their dissent against the results of Sunday's election.
But the pots and music won't give Mr Maduro much of a headache.
Beyond the controversy surrounding the vote, the new president of Venezuela has already got a much larger challenge to face.
Most significantly, governing with such a small majority in a country used to Hugo Chavez's huge popularity.
Narrow victory
On 14 April, Nicolas Maduro, who was picked by Mr Chavez as his chosen successor, achieved a narrow victory.
The National Electoral Council says that he won by 270,000 votes over opposition candidate Henrique Capriles - a 1.8% lead, much lower than Mr Chavez's 11% over Mr Capriles in last October's election.
Soon after the results were released, Diosdado Cabello, president of the National Assembly, tweeted about the need of a "deep self-criticism".
"Let's look for our faults even under the stones, but let's not endanger the homeland or the legacy or our Commander," he said.
Less than a month went by between Mr Chavez's death on 5 March and the beginning of the 10-day presidential campaign on 2 April.
During that period, several government officials said they would receive at least 10 million votes in the forthcoming election.
"This will be a plebiscite," said Oil Minister Rafael Ramirez in an interview with BBC Mundo. "The people will reaffirm their political will from previous elections."
"The 10 million votes they spoke about are very far from reality," said Angel Alvarez, a professor at the Central University of Venezuela (UCV).
"The margin of victory is so small that it forces both sides to adopt a strategy based on dialogue to avoid a sterile polarisation," said Mr Alvarez.
But dialogue between the two parties has been almost absent since the election.
'Politics without Chavez'
Mr Capriles contested the results and called for a full recount and for daily protests.
On 15 April, some protests turned violent.
The government arrested more than 100 people and blamed the opposition for the deaths of eight people.
Mr Maduro said Mr Capriles was trying to carry out a coup and banned a march by the opposition to the seat of the National Electoral Council.
"I won't be a weak president," said Mr Maduro. "I will be a president with a tough hand."
On Thursday, the National Electoral Council offered a full audit of the votes, which will last for another month.
Mr Capriles said he will carry on his fight for truth until a full recount takes place and he asked his supporters to protest against Mr Maduro's swearing in ceremony.
While the narrow victory has give the opposition more fuel to protest, some government supporters have a hard time hiding their disappointment.
"This is not the devastating defeat that we have always inflicted upon the right," said Barwill Gonzalez, a Chavez supporter and civil servant in Caracas.
"We are not 100% pleased. But we are satisfied up to a point because our Commander left us and we were sad," he said.
"We need to remember that we are here because Chavez died, otherwise this wouldn't be happening," said Mercedes Chacin, editor-in-chief of Ciudad CCS, a Caracas-based pro-Chavez daily.
"We need to do some self-criticism and learn how to do politics without Chavez."
Chavez popularity
During the election campaign, Mr Maduro played his best card: his appointment by Mr Chavez as his successor.
On Friday he will become the first president of Venezuela after 14 years of Hugo Chavez, who managed to keep some of Venezuela's problems at bay thanks to his high levels of popularity.
One of the highest inflation rates in the world, shortages of food and medicine, rolling blackouts in various regions in the country, and the fifth highest murder rate in the world are some of the toughest challenges ahead for Mr Maduro.
He may also have to put up with dissent and disappointment in his own ranks.
"Considering these challenges, it will be convenient for Maduro to keep up the electoral controversy, so that the unity within the party remains," says Mr Alvarez.
Pots, pans, salsa music and an election audit may be not so unpleasant for Mr Maduro considering all the obstacles ahead of him until the end of his mandate in 2019.