Nicolas Maduro sworn in as new Venezuelan president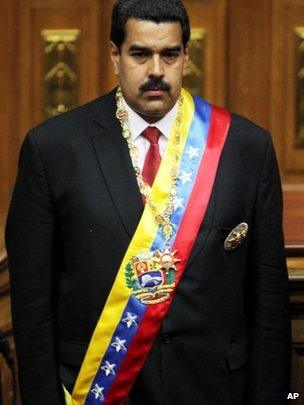 Nicolas Maduro has been sworn in as Venezuelan president, succeeding the late Hugo Chavez who died of cancer in March after governing for 14 years.
During his speech, a man grabbed the microphone and was dragged away, after which Mr Maduro criticised security saying he could have been shot.
Thousands gathered on the streets of Caracas to show their support for Mr Maduro and to celebrate independence.
The ceremony follows a decision to audit votes cast in Sunday's election.
Mr Maduro was elected president ahead of opposition leader Henrique Capriles by 1.8% of the vote.
Mr Capriles, who believed there were voting irregularities, says he accepts the electoral audit.
Opposition supporters protested against Mr Maduro's inauguration by banging on pots and pans, and playing salsa music.
Mr Capriles wrote on Twitter he hoped the salsa would "be heard across Venezuela".
"Fresh lies. Come on, Venezuela, the fight for the truth goes on!"
Mr Maduro opened his inauguration speech saying that he wanted to govern for "all Venezuelans".
"I want to extend the hand so we can build an inclusive nation for everybody," he told his audience during a long speech.
Dozens of leaders from across the region (including Brazil, Cuba and Colombia), Iran and some Arab countries attended the ceremony.
But Mr Maduro was interrupted by a man who ran on stage and grabbed his microphone.
The incoming president responded by criticising his security.
"I could have been shot here," he told the audience.
Then as he regained his composure he added: "Incident overcome. I will try to speak to this man later."
The motives of the man, who wore a red jacket - the colour favoured by "Chavistas" - and only managed to say his name before being hustled away, were not immediately clear.
In his speech, Mr Maduro promised a "revolution within the revolution" and compared Mr Capriles to the man installed as president of Venezuela during a short-lived 2002 coup against President Chavez, Pedro Carmona.
"I'm willing to even talk to the devil, even to the new Carmona, if necessary to stop his hatred against me, against the people, to stop his intolerance."
The new president also said he would tackle corruption and crime, and to carry on Mr Chavez social programmes.
"I'm the first chavista president and the first workman president."
Mr Capriles made an appeal for peaceful protests in a bid to avoid further violence after clashes left seven people dead on Monday.
The National Electoral Council's decision to audit all the paper receipts of electronic votes is seen as a major concession to the opposition.
The council had earlier audited 54% of the vote and said this showed that Mr Maduro, Mr Chavez's chosen successor, had won a slim majority.
The official count indicates Mr Maduro won 50.8% of votes to Mr Capriles's 49.0%.
Mr Capriles said he believed the crucial votes that cost him the presidency are among the unaudited 46% of the vote.
He said there were more than 3,000 incidents from Sunday's poll that needed to be examined.
"This is a 'meanwhile' government. Good times are on the way," Mr Capriles wrote on Twitter.
Correspondents say the announcement comes as a surprise to many after the electoral body initially said the results, which it announced on Sunday night, were "irreversible".
The council's president, Tibisay Lucena, told AFP news agency that the expanded audit was not a recount but would cover all ballot boxes not audited on election day by reviewing a sample two-thirds of them over the next month.
Venezuela uses electronic voting machines which register an elector's decision and then emit a printed receipt for the voter to deposit into a sealed ballot box. For the audit, the receipts will be compared with the electronic tallies, to check for any irregularities.
Russian President Vladimir Putin and Cuban leader Raul Castro were among the first heads of state to congratulate Mr Maduro on his win.
The governments of Brazil, Peru, Ecuador, Colombia, Bolivia and Argentina, among others, have also voiced their backing for Mr Maduro's victory.
But the US has so far refused to recognise Mr Maduro's win, calling for an audit of the results.
Secretary of State John Kerry said the US was not yet ready to validate the results of Sunday's poll.
Several opposition-led protests erupted across the country after the official results were announced on Sunday.