Venezuela election official plays down vote audit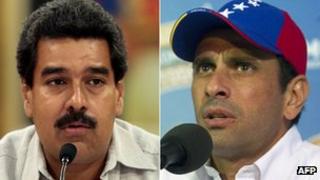 The electoral commission in Venezuela has said an audit of last Sunday's disputed presidential vote will not affect Nicolas Maduro's victory.
Mr Maduro's main challenger, Henrique Capriles, agreed to the electronic audit after withdrawing his demand for a manual recount.
Officially, he lost by a margin of 1.8 percentage points.
The electoral commission's deputy head, Sandra Oblitas, said that the result was "irreversible".
The audit, which was agreed just before Mr Maduro was sworn in as president, is expected to take about a month.
Mr Capriles believes there were voting irregularities.
The new president has vowed to continue the social policies of his leftist predecessor, the late Hugo Chavez.
'Long process'
Ms Oblitas, deputy head of the National Electoral Council (CNE), spoke to reporters at the commission's headquarters in the capital, Caracas.
"We will not let something that aims to verify whether the system worked be turned into a sort of public impeachment that tries to question the results," she said.
"As always, when the CNE announces results to the country, it is because they are irreversible."
Any challenge to the result must be decided by Venezuela's supreme court, she said.
The official count indicates Mr Maduro won 50.8% of votes to Mr Capriles's 49.0%.
Mr Capriles said he believed the crucial votes that had cost him the presidency were among the unaudited 46% of the vote.
Carlos Ocariz, national director of Mr Capriles' team, said the audit would be a "long process... and our people have to stay alert".
"We want to know the truth," he said. "Once we see what happened last Sunday, a new phase can begin."
'Meddling'
In his speech on Friday, Mr Maduro promised a "revolution within the revolution" and compared Mr Capriles to the man installed as president of Venezuela during a short-lived 2002 coup against Chavez, Pedro Carmona.
"I'm willing to even talk to the devil, even to the new Carmona, if necessary to stop his hatred against me, against the people, to stop his intolerance," he said.
The former bus driver said: "I'm the first chavista president and the first workman president."
Russian President Vladimir Putin and Cuban leader Raul Castro were among the first heads of state to congratulate Mr Maduro on his win.
The governments of Brazil, Peru, Ecuador, Colombia, Bolivia and Argentina, among others, have also voiced their backing for Mr Maduro's victory.
But the US has so far refused to recognise Mr Maduro's win.
The leftist President of Bolivia, Evo Morales, said Washington had no right to question Mr Maduro's victory because George W Bush won the White House by a similarly narrow margin in 2004.
"This is clearly meddling..." he said. "We won't permit that Bolivia or Latin America be treated as the US government's backyard."