Mexican 'drug queen' pleads guilty in US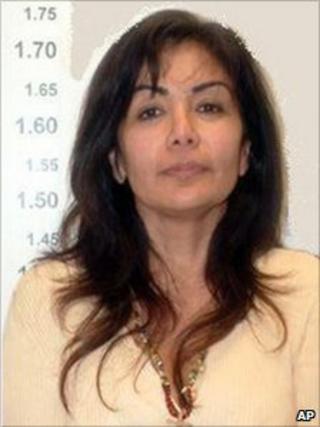 A Mexican woman on trial in the US has pleaded guilty to helping the former head of the powerful Norte del Valle cartel evade justice between 2002-04.
Sandra Avila Beltran, 52, dubbed Queen of the Pacific, admitted to "hindering the arrest" of Juan Diego Espinosa Ramirez, her boyfriend at the time.
Avila, who has been in jail since 2007, was extradited to Miami last August.
She faces a prison sentence of 15 years after accepting a plea bargain. She previously denied any wrongdoing.
Avila was accused of being an important link between the Norte del Valle Cartel, in Colombia, and Mexico's powerful Sinaloa cartel.
Much of the cocaine produced in Colombia is smuggled into the United States via Mexico.
She is the niece of Miguel Angel Felix Gallardo, who was known in the 1980s as The Godfather of drug trafficking into the US.
On Wednesday, Avila pleaded guilty in a Miami court to being an accessory after the fact for helping Espinosa run from police.
"Between approximately 2002 and 2004, Avila-Beltran provided financial assistance for travel, lodging and other expenses to [Espinosa] with the intention of preventing or hindering his arrest for drug-trafficking crimes," the US attorney's office said in a statement.
Although she faces a maximum of 15 years in prison when sentenced on 25 July, she is expected to receive a lesser jail term reflecting time already served.
Avila was arrested in September 2007 in Mexico City, and charged with money laundering and drug trafficking.
She initially fought the charges, claiming she made her money selling clothes and renting houses.
After a legal battle against extradition, Avila was handed over to the US authorities in Mexico and was taken to Florida to face cocaine possession and trafficking charges.