Jail for Colombian peasant who raised hostage's son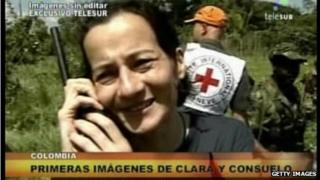 A court in Colombia has sentenced a peasant who looked after the baby son of a Farc hostage to 33 years in jail.
Jose Crisanto Gomez was found guilty of kidnapping and extortion.
In 2005, Farc rebels handed him the baby of Clara Rojas, a woman they were holding hostage and who had given birth in captivity.
Mr Gomez looked after the child for seven months before handing him over to a state orphanage, where he stayed until DNA tests revealed his identity.
A court in the central city of Villavicencio overturned an earlier decision to absolve Mr Gomez of the charges.
Mr Gomez was not present at the sentencing, which can still be appealed against. Prosecutors are searching for him.
Jungle ordeal
Mr Gomez was living in a rural part of southern Guaviare province with his family when members of Colombia's largest rebel group, the Farc, handed him an eight-month old boy in January 2005 and ordered the family to look after him.
Mr Gomez says the Farc gave him the boy because his father-in-law was a healer, and the baby was ill.
The boy had a fractured arm, an injury he had sustained during his delivery by Caesarean section in the make-shift jungle camp where he was born, and suffered from malaria and leishmaniasis.
Mr Gomez and his family looked after the baby in their rural home before fleeing from the armed conflict to the provincial capital, San Jose del Guaviare.
There he took the boy to hospital, telling nurses the baby's name was Juan David Gomez and he was a relative of his.
Noting the baby's broken and untreated arm, the nurses suspected Mr Gomez of having abused the boy.
They carried out a DNA test, which revealed Mr Gomez and the baby were not related.
Unable to care for the boy and facing growing questions by medical staff, Mr Gomez agreed to hand the baby over to the state authorities.
Desperate search
However, the boy's identity was not revealed until January 2008.
A policeman who had been held hostage along with Clara Rojas, and who had managed to escape from the Farc, told Ms Rojas's mother about the child, whom Ms Rojas had named Emmanuel.
The authorities at first assumed Emmanuel was still in the hands of the rebels, but when the Farc delayed the planned release of mother and child, they began to suspect Emmanuel may no longer be with them.
According to Mr Gomez, it was at this time that he first found out about the true identity of the child he had looked after for seven months, and informed the authorities.
Ms Rojas's mother then began to search orphanages throughout the country for a trace of her grandson.
A child matching his description was finally found in a foster home in the capital, Bogota. A DNA comparison between the boy and Ms Rojas's mother showed the two were related.
Ms Rojas was released by the Farc in January 2008 and re-united with her son shortly afterwards, after three years of separation.
Mr Gomez was arrested in 2008 and charged with kidnapping, extortion, rebellion and giving false testimony.
He has always maintained that he was never a member of the Farc and did not know that the baby had been taken from his captive mother.
In interviews given to local media after his release in 2012, he said he and his family had been threatened by the rebels, who blamed him for handing over their "prize possession" to the state authorities.
A film about his story, Operation E, was recently released but has been criticised by Ms Rojas for "violating the privacy of Emmanuel".
Mr Gomez was absolved of the earlier charges in April of last year, but prosecutors appealed against the decision, leading to Wednesday's sentence.
The court in Villavicenio said Mr Gomez could appeal against the decision.