US 'spy' Timothy Hallet Tracy detained in Venezuela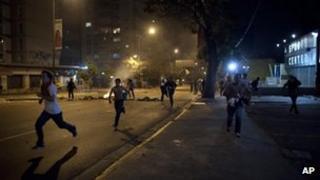 The authorities in Venezuela have detained a United States citizen they accuse of being an intelligence agent.
Interior Minister Miguel Rodriguez Torres said Timothy Hallet Tracy had directed funds towards student protests after the disputed presidential elections earlier this month.
He said Mr Tracy was trying to destabilise the country with the goal of starting a civil war.
The US has not commented, but Mr Tracey's family say he is innocent.
They say he was in Venezuela making a documentary, the Associated Press reports.
The presidential election was won by less than 2% of the vote by Nicolas Maduro. He succeeds his mentor Hugo Chavez, who died in March of cancer.
But the opposition have alleged election irregularities, and losing candidate Henrique Capriles has demanded a full recount of the vote.
Nine people died in post-election protests and both the government and opposition are planning more protests on 1 May.