Bolivian church denies collusion in theft of jewels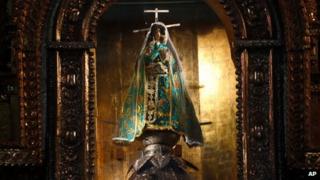 The Catholic Church in Bolivia has rejected accusations by President Evo Morales that bishops are implicated in a spate of thefts from churches.
The Bishops' Conference called the remarks "incredibly hurtful".
President Morales made his comments after a statue of Bolivia's patron saint, Our Lady of Copacabana, was stripped of its gold and jewels.
Mr Morales said the bishops held the keys to the churches and should know who was behind the crime.
Three members of the clergy were among six people arrested over the theft.
On Monday parishioners visiting the basilica in Copacabana found the statue of the saint stripped of 18 of its valuable jewels.
Among the items stolen are the golden crowns of the Virgin and her child, rings adorned with pearls and precious stones and various gold ornaments.
The thieves used a ladder to climb the back wall of the church, entering through a small window eight metres (26ft) up, according to one of the priests at the basilica.
The theft comes after nine colonial churches in the southern Potosi region were stripped of their riches.
Bishop of Potosi Ricardo Centellas said there was not enough security in place to protect the priceless colonial art and jewels many of these churches hold.
But President Evo Morales said he believed the thefts may have been an inside job.
"Every day you read in the papers about this Lady who's been stripped of her jewels, or that saint who's missing his adornments," he said on Thursday.
"But who has the keys to the churches?" he asked.
"It's the bishops, and the bishops know who comes and goes, and therefore they know who took the jewels."
The Bishops' Conference said it was deeply hurt by the allegations.
"His grave accusation lack all foundation and creates enormous damage to the image of the Catholic Church in Bolivia and the world", it said in a statement published on Friday.
The bishops also said they hoped the three clergy arrested would be presumed innocent until an impartial and just investigation had been carried out.