Conspiracy charges for US film maker held in Venezuela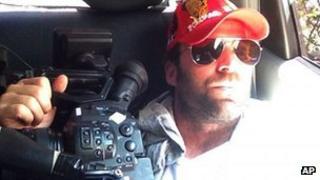 The American film maker Timothy Tracy, accused of fomenting post-election violence in Venezuela, has been formally charged by a court in Caracas.
Mr Tracy was accused of conspiracy, association for criminal purposes and use of a false document.
He was told he must remain in custody for 45 days, while a judge rules on the charges against him.
But Mr Tracy's lawyer told Globovision TV her client's films "have nothing to do with state security."
Gloria Stifano also said Mr Tracy was given an international observer accreditation to follow the presidential elections of 14 April.
'Personal tales'
He was "gathering personal tales to understand the division of Venezuelan society", Ms Stifano told the pro-opposition broadcaster.
The US government maintains the man is innocent.
Mr Tracy was arrested as he was trying to leave the country at Caracas international airport.
Authorities say he had already been detained twice before: filming a pro-government rally and outside the presidential palace.
The government accuses him of directing funds towards student protesters after the disputed presidential elections earlier this month.
Nine people died and dozens were injured in clashes following Venezuela's disputed presidential elections.
Interior Minister Miguel Rodriguez Torres said Mr Tracy was trying to "destabilise the country with the goal of starting a civil war".
The presidential election was won by less than two percentage points of the vote by Nicolas Maduro. He succeeds his mentor Hugo Chavez, who died in March of cancer.
But the opposition has alleged election irregularities, and losing candidate Henrique Capriles has demanded a full recount of the vote.