Police occupy favelas around Rio's Christ statue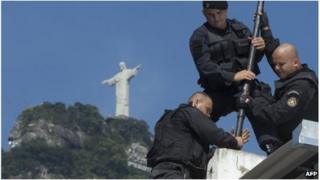 Police in Brazil have occupied three shanty towns around Rio de Janeiro's famous Christ the Redeemer statue, ahead of a visit by Pope Francis.
There were no clashes reported as more than 400 officers entered the favelas before dawn on Monday.
The Pope is expected for the Roman Catholic celebration of World Youth Day, from 23 to 28 July.
The occupation is part of a government policy of combating drug crime ahead of the upcoming World Cup and Olympics.
All three slum districts - Cerro-Cora, Vila Candido and Guararapes - were built on the hillsides around the Corcovado mountain, topped by the statue of Christ, one of the city's best loved tourist attractions.
After marching in, the security forces searched the favelas for drugs and weapons, finding ammunition, radio transmitters and marijuana.
No one was arrested, the authorities said.
'Security belt'
Rio's security chief, Jose Mariano Beltrame, said the occupation sealed a "security belt" around the Tijuca mountain range, host to one of the world's biggest urban forests.
"The planning and installation of UPPs follows the 2008 plan. The UPP at Cerro-Cora is part of the occupation of the Sao Carlos [favela], which occurred in 2009," Mr Beltrame told reporters.
The operation started at 05:00 local time (08:00 GMT) and after just 30 minutes the officers began to look for a visible place to set up poles for the Brazilian and Rio de Janeiro flags.
The drive to push out drug dealers from poorer communities in Rio started in 2008, inspired by a similar programme in Colombia.
The first favela to be occupied by security forces was Dona Marta, which is also on a hillside around the famous statue.
Since then, more than 30 slum districts have introduced the so called UPPs, or Pacifying Police Units.
Each of these units is staffed by more than 100 officers, who police the communities around it.
The governor of Rio de Janeiro, Sergio Cabral, has vowed to bring the number up to 40 by the end of 2014.