Mexico Congress passes sweeping telecoms bill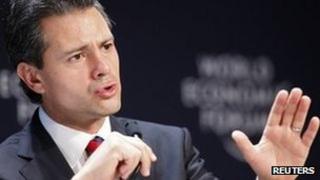 Mexico's Congress has passed a major reform, in an attempt to make the country's telecommunications industry more open and competitive.
The final approval of the Senate was given after more than a month of discussion in both houses.
The bill now needs to be approved by a majority of the state congresses.
The reform may challenge the empire of the world's richest man, Carlos Slim, whose America Movil company controls two-thirds of the phone market.
It is also likely to affect the interests of Latin America's biggest television network, Televisa, which has a 70% share of the audience.
The constitutional change is expected to encourage more foreign investment, allowing non-Mexican companies to become majority shareholders for the first time.
'Untouchable monopolies'
It also creates mechanisms that aim to prevent one company from becoming too dominant.
These include the creation of a new powerful regulatory agency, and a specialised court system to deal with specific cases.
"We are touching on something which for a long time was thought to be untouchable - the monopolies," left-wing senator Alejandra Barrales told Reuters news agency.
Correspondents say that so far the mighty Mexican telecom companies have eluded efforts to tighten regulations.
If enacted, the new bill will also make it possible for the government to force companies to sell assets , so that they cannot control more than 50% of the market.
The motion was approved by 108 votes, with three against and two abstentions.
It was passed by the Lower House last Thursday with a few changes.
Now the reform must to be approved by a majority of the 31 Mexican states and the Federal District (Mexico City).
But before it comes into force, lawmakers say a secondary bill to implement the changes will have to be drawn up.
The telecommunications reform is seen as a consequence of President Enrique Pena Nieto's Pact for Mexico, a broad alliance designed to bring about structural changes.