A glimpse inside Cuba's prisons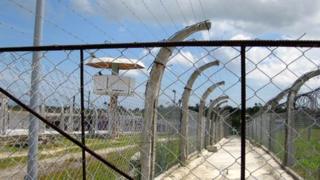 The whitewashed buildings of the Combinado del Este prison are surrounded by watch-towers and layers and layers of coiled barbed wire.
One of Cuba's most notorious high-security facilities, its 3,000 beds have been used by everyone from convicted killers to those punished for their political views.
Usually closed to outside scrutiny, the prison recently allowed foreign journalists through its doors for the first time in almost a decade, ahead of a Universal Periodic Review by the United Nations Human Rights Council.
At the entrance to a cellblock we were given paper flowers, handmade by inmates.
There were more of them inside, their petals resting on neatly-made bunk-beds.
First time inside
And as we peered in, a group of prisoners in the corridor burst into song.
The cells we saw were clean but cramped, with three men to each.
In one, a detainee drew back the plastic curtain to reveal a combined shower and toilet tray. There was no running water, though that is common in Cuba.
The government sets no limit on pre-trial detention and the men said many on their wing had been waiting for trial for more than a year.
"This is my first time inside," 46-year-old Eduardo told me. Accused of an "economic crime", he had been waiting 17 months for his case to come to court.
"So far, they've treated us ok," he shrugged.
"I was just carrying a few grams of marijuana," his cellmate Nelson protested, saying that prosecutors were demanding an eight-year sentence.
"It's tough," he says, but Cuba's government has a zero-tolerance policy on drugs.
Proportionately, communist Cuba has one of the highest prison populations in the world, with over 57,000 inmates spread across 200 facilities in a country of 11.3 million people.
Officials say they are now trying to reduce the number sent to Cuba's five maximum-security jails - currently around half of all detainees - by extending the use of lower-security prisons.
'Undesirable elements'
Our second stop was La Lima. Labelled a "centre for work and study", it consists of a series of converted military warehouses that opened as a prison in 2009.
Just outside its gates, I met a murderer helping to build a block of flats.
Francisco was initially sent to Combinado del Este but earned a transfer to the more lenient La Lima by completing his high school education, then starting work.
He says he now earns up to $40 (£25) a month as a convict-carpenter, double the average state salary on the outside.
"Everyone tries to get moved here, then get out early," Francisco told me. "You can reduce your sentence if you study and work."
Inside the complex, large communal cells were festooned with miniature Cuban flags for our arrival. But some of the prisoners' tales were less cheery.
Ricardo is serving three years for "pre-criminal dangerousness". He was arrested for having no job and associating with "undesirable elements".
"I didn't rob, or kill, or anything. They labelled me 'dangerous' just for spending time with former prisoners and sent me here."
His story suggests that the policy of moving inmates to lower-security centres is about changing the style of punishment in Cuba, not reducing its scale.
"I got seven years for stealing seven mangos," added Yoel Pache Bacencio, who admitted he broke into a farm but insisted he did not use violence.
"I've never been to prison before. I've learned my lesson, I want to get out," he said.
'Unprotected prisoners'
In both prisons, officials highlighted work and study programmes, ultimately aimed at helping re-integrate ex-offenders into society. At the Combinado del Este they say the recidivism rate is just 9%.
Prisoners duly praised the programmes, although no conversation was conducted in private.
"The worst thing is that prisoners here are unprotected," argues human rights activist Elizardo Sanchez, who claims that conditions away from what he describes as "show prisons" remain lamentable.
"Cuba refuses access to the Red Cross, calling that interference in internal affairs. But they know they can't open up fully to international scrutiny, because people would be horrified," Mr Sanchez says.
The government has no obligation under international law to allow Red Cross monitors into its jails, but many countries do accept them.
Lingering doubts
When asked why Cuba does not - thereby allowing for lingering doubts about the state of its prisons - the director of Combinado del Este described the media's visit as a "step forward".
"You have seen the reality," he insisted.
But one thing we did not see was any political prisoners.
Seventy-five prominent dissidents given long sentences in 2003 were eventually released after the Roman Catholic Church intervened.
But diplomats and activists say several dozen people remain imprisoned for offences such as "disrespecting" a public official.
There has also been a surge in short-term detentions of opposition activists. Several hundred each month are held in police detention centres for hours or days.
That issue will be raised at the UN Human Rights Council.
Judging changes in the penal system will be harder. For non-political prisoners, it does appear that efforts to improve things are under way.
The rhetoric at least, is all about detainees' rights.
But our one-off prison tour was limited. And the real experts in prison monitoring are still banned from visiting.