Guatemala's Alfonso Portillo pleads not guilty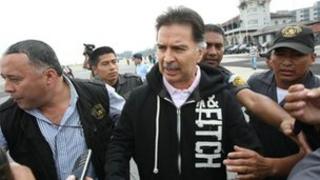 Guatemala's former President Alfonso Portillo has pleaded not guilty to money laundering charges in a US court.
Prosecutors in New York accuse him of using US banks to launder $70m (£46m) in public funds while in office, between 2000 and 2004.
He was extradited from Guatemala to the US last week, and could be jailed for up to 20 years if convicted.
In the past, the 61-year-old former president said he was the victim of political persecution.
His attorneys said the prosecution was "a clear case of over-reaching by the US Department of Justice and the US government".
They added that a bail amount will be sought at the next court appearance, at a date yet to be set.
'Money intended for children'
Prosecutors and defence lawyers have until 28 June to gather enough testimonies for the case.
But Mr Portillo says there is not enough evidence against him.
Before leaving Guatemala last Friday, he also told local radio he was being unjustly "kidnapped".
His attorney Mauricio Berriondo said the extradition was "outside any legal framework" and was conducted "by force".
Mr Portillo was cleared of local embezzlement charges on a separate case in Guatemala in May 2011.
But the country's Supreme Court later endorsed an extradition request from a federal grand jury in New York.
US prosecutors accuse him of embezzling public funds and laundering the money through US and European banks, including $1.5m (£1m) intended for Guatemalan school children.
Mr Portillo was elected on a promise to redistribute wealth, but his critics say his administration was one of the most corrupt in Guatemala's recent history.