Brazil stadium row highlights Fifa tension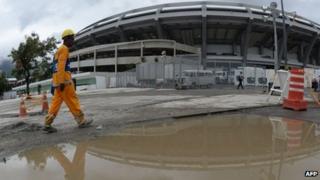 This week's embarrassing row, which briefly saw the suspension of Sunday's high-profile Brazil v England football match at Rio de Janeiro's Maracana Stadium, has brought into sharp focus some fundamental cultural and political issues as Brazil prepares to host big international events in the next few years.
The all-powerful Brazilian Football Confederation and the state government of Rio have blamed the judicial decision to suspend the game on a "procedural oversight" and have announced the game will, after all, take place.
In reality, the district court judge who issued the initial injunction on Thursday, in the interests of public safety, probably did exactly the right thing.
As impressive as it may have looked from the inside, the refurbished Maracana was in absolutely no condition to host 75,000 spectators for such a big, albeit friendly, football international.
Local organising committees in Brazil have been repeatedly warned by Fifa, world football's governing body, that the Maracana and several other prospective World Cup venues are way behind schedule.
Fifa has told the Brazilian football authorities that they are in a race against time to be ready for the Confederations Cup in June, as well as the main event in a year's time.
Even after that injunction was overturned and the necessary public safety certificates were issued, Brazil's so-called "Cathedral of Football" is still a huge building site.
Parts of the roof and, in particular, the plazas and concourses outside the ground where thousands of fans will gather before and after the game, were unfinished.
As the weekend began, tonnes of concrete and reinforced steel were still being poured and fixed into place. Dozens of trucks carrying building materials queued up outside the complex.
The refurbishment of the Maracana, and some of the controversy surrounding it, is indicative of the tensions between Brazil and the big European-based sporting organisations that govern world sport, FIFA and the International Olympic Committee.
Irksome demands
Luis Fernandes is Brazil's deputy sports minister but he has overall responsibility for the World Cup and the 2016 Rio Olympics, making him arguably one of the most high-profile and scrutinised politicians in the country.
Like many in officialdom here, he almost dismisses the row over the Maracana delays as a "bureaucratic problem" and maintains that everything has now been settled.
Mr Fernandes admits that, with the responsibility of hosting so many high-profile international events and visits in the next few years, Brazil has its work cut out to modernise and upgrade communications, transport and other infrastructure but is confident the government and private sector will "deliver".
"We have been followed very closely by Fifa and the IOC," says the minister.
"They are very strict in their demands and their technical conditions for hosting the games and we are meeting all the requirements that have been presented to us."
But it is those very rigid and strict "European" conditions that have irked and frustrated many in Brazil, a country with its own way of doing things but which is also anxious to prove itself a worthy member of the global elite.
Football and big public parties, such as Rio's annual carnival, are two things Brazilians think they know how to do best and, if truth be told, they do not like being told by stiff-shirted outsiders from Europe how to get it right.
The row over the Maracana is indicative of that.
Built initially for the 1950 World Cup, it is dear not just to the football-mad people of Brazil but to Cariocas, natives of Rio de Janeiro, in particular.
The atmosphere inside the old ground must have been magical, with as many as 200,000 fans singing on the terraces as gold-shirted players like Pele, Garrincha, Zico and Romario danced around the playing surface below.
But the stadium was old, basic and uncomfortable. You would imagine that a $364m (£240m) upgrade with comfortable seating and convenient facilities for fans would have been overwhelmingly welcomed.
Far from it. Rio's newspapers and airwaves have been full of public opinions and professional editorials claiming that the heart and character of "their" Maracana has been ripped out on Fifa's orders.
Many think the plush seating (no standing allowed anymore), slightly bigger roof and reduced capacity are somehow an abandonment of what was created back in the 1950s when Brazil truly became a footballing nation.
Many, if not all, Brazilian men deep down believed they could have been chosen for the "selecao", the national team.
If only the scouts had seen them at their prime. If only they had applied themselves a little bit better in those misspent days of youth on the beaches of Rio.
With that thought still flickering at the back of their furtive imaginations, many Brazilians play football socially several times a week.
Middle-aged Cariocas run around five-a-side pitches on midweek nights, trying out the tricks that somehow evaded the scrutinising eyes of the talent scouts back in the day.
Positive nation
At one such informal game or "pelada" in Rio's more up-market south-zone I caught up with the well known journalist and commentator, Aydano Andre Motta.
He resents that with its obsession for punctuality and organisation, Fifa is in danger of turning the World Cup into a sterile, European event.
"I regret the fact that they (FIFA) are not letting a little bit of what we're known for, the Brazilian 'alegria' (fun) to creep in," says Mr Motta.
But he also addresses the reality that Brazil has its own responsibilities and choices when it comes to these big events.
Perhaps the biggest gripe and concern in recent months, particularly in the poorer parts of Rio, Sao Paulo and Salvador, has been the huge amount of public and private money spent on new or refurbished stadiums.
As much as its economy has grown in recent years and millions of people have regular incomes, there is still an embarrassing shortage of good public education and healthcare.
While billions of pounds have been allocated to far too many pristine new football stadiums, in the favelas or shantytowns that skirt the big cities there is an understandable envy, although most Brazilians I have spoken to agree there will be some trickle-down benefits for all.
"Brazil has serious deficiencies in areas like health care and education and that's unhappily a fact," says Mr Motta.
If there had been no World Cup, he says: "The reality is that, the huge sums now being spent on the Maracana or the new stadium in Brasilia wouldn't be reallocated to social projects."
Criticising Fifa, damning the deficiencies of their own society and, above all, lamenting the poor quality of football being played by the national team at the minute, every Brazilian is a "national coach" or "expert pundit" in his own eyes.
But you know that, in this overwhelmingly positive nation, when it comes to kick-off they will all get behind the project and support their team.
With a huge dose of good luck, a glance to the heavens and a big Caipirinha, Brazil's national cocktail, it will all come together in the end.