Peru's ex president Alberto Fujimori is denied pardon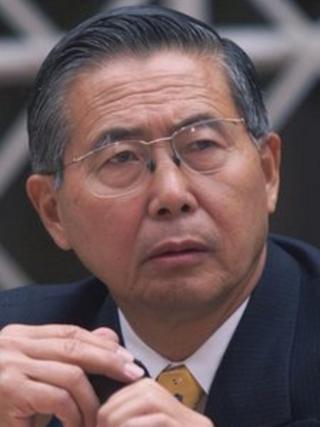 Peru's President Ollanta Humala has rejected a request to pardon the jailed former leader Alberto Fujimori on humanitarian grounds.
Mr Humala said the former president was "not terminally ill".
Mr Fujimori, who was in office between 1990 and 2000, is serving a 25-year sentence for human rights violations.
His family says his health is worsening and he could die in prison. Last month, a senior doctor said gastroduodenitis was destroying Mr Fujimori's stomach.
His family also says he has tongue cancer - a claim rejected by the government.
'Best-kept prisoner'
Speaking in the Peruvian capital, Lima, Mr Humala said he would not exercise his constitutional power to grant a humanitarian pardon.
"Having analysed the interviews of doctors, having spoken to the minister of justice, I have decided to accept the unanimous recommendation given by the Presidential Pardons Commission, and they have not recommended a pardon," the president said.
"Fujimori is the best-kept prisoner in all of Peru.
"(But) if his objective conditions were to change tomorrow, they (relatives) have the right to seek a pardon again," he concluded.
Mr Fujimori was sentenced in 2009 to 25 years in prison for ordering the killings of 25 people by a death squad, as well as the kidnapping of a journalist and businessman during Peru's internal conflict.
In December 2007 he also received a six-year jail term for abuse of power. Under Peruvian law, he can be pardoned only on health grounds.
Opposition Congressman Hector Becerril called Mr Humala's decision "totally political". "This does not answer to the feeling shared by more than 60% of Peruvians," he told Peruvian TV.
However, a collective group of human rights organisations, CNDDHH, welcomed the decision.
"This is a great example that our country is taking in advancing transitional justice worldwide," the group said on their website.