Mexico candidate Jaime Orozco killed in Chihuahua state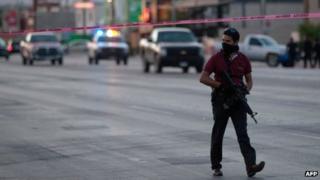 Mexican officials say they have found the body of a mayoral candidate who had been missing in northern Chihuahua state since Monday.
Jaime Orozco had been reportedly abducted by armed men from his home in the town of Guadalupe y Calvo.
His body was found in a nearby field, with more than a dozen bullet wounds.
Criminal gangs operate in the area, producing cannabis, heroin and synthetic drugs which are mainly smuggled into the United States.
Mr Orozco was a member of the Institutional Revolutionary Party, or PRI, of President Enrique Pena Nieto.
He was running for mayor in the 7 July elections, being held in Chihuahua and several other Mexican states.
"We are carrying out an investigation. We will solve this crime and find those responsible for it," said governor Cesar Duarte.
At least two dozen mayors have been assassinated in Mexico since former President Felipe Calderon deployed the armed forces to fight the drug cartels in December 2006.
Critics say Mr Calderon's war on drugs led to an escalation of violence and the deaths of some 70,000 people.
The motives behind the killings of mayors are not always clear, police say.
But most attacks on local officials have happened in small and medium-sized towns in regions disputed by rival drug gangs.