Argentina's Independiente suffer historic relegation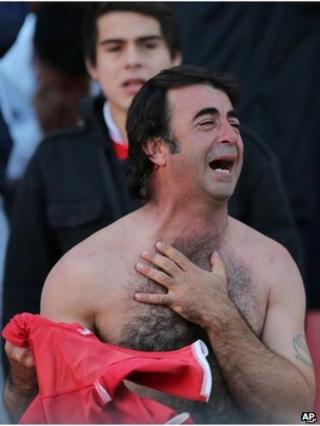 One of Argentina's "big five" football teams, Independiente, have dropped out of the first division for the first time in their 108-year history.
As the 1-0 defeat against San Lorenzo became inevitable, desolate Independiente fans remained peaceful and sang in support of their team.
Two years ago, as another South American giant, River Plate, was relegated, violent clashes erupted.
Boca Juniors are now the only Argentine "grande" never to have been relegated.
Argentina striker Sergio Aguero, who plays for English club Manchester City, expressed his support to the "Red Devils", as Independiente are known.
'Big ones come back'
"I said it when it happened to River Plate and reiterate it today. The big ones always come back! Always red in my heart. Today more than ever," he wrote on Twitter.
Seven times Libertadores champions Independiente have been struggling for a long time.
In the last two decades, Independiente won only two of their 14 league titles, despite remaining the third most successful club after River, with 33 trophies and Boca Juniors, 24, since Argentina's professional league was founded, in 1931.
Their last Libertadores title came in 1984.
In Argentina, relegation is decided by the points average won in the last three seasons.
The three lowest scoring clubs go down.
"El Rojo" gathered a meagre 128 points since 2010, far behind Newell's Old Boys' 203, the best averaged team in the last three seasons.
Independiente will now hope to repeat River's feat, who became the second league champions on their first relegated season.