Brazil demonstrations: Protesters' voices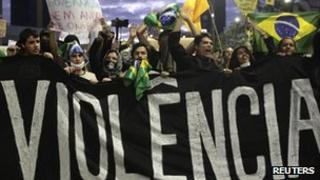 Hundreds of thousands of people have marched through the streets of Brazil's biggest cities in the largest protests seen in the country for more than 20 years.
The biggest demonstrations were in Rio de Janeiro, where 100,000 people joined a mainly peaceful march, as protests over rising public transport costs and the expense of staging the 2014 World Cup spread.
Here, readers in Brazil explain why they have taken to the streets to protest.
Daniel Acosta, Sao Paulo
It was so crowded out on the streets of Sao Paulo on Monday. It was amazing. There must have been about 250,000 people.
The atmosphere was very good. It was peaceful this time, although at previous protests the police clashed with protesters, and a lot of people got hurt.
In Brazil, we are generally very peaceful and friendly. We don't like making trouble. This is a big thing for Brazil. It's very unusual for our country.
We don't protest very much. We're not very patriotic. But this is changing.
Everyone I spoke to at the protests said that this was the first time they can say that they are proud to be Brazilian.
We are tired of sitting back and seeing our governors being corrupt, along with providing a lack of security, education, and hospitals.
The internet has made a lot of difference. This all started on Facebook.
We haven't seen protests like this since 1988. It is great.
Juliana Tavares Lopes, Rio de Janeiro
I took part in the protest in Rio de Janeiro on Monday.
What I witnessed was a great and peaceful gathering. All the people there, mainly young people and students, are looking for better public services, like education, health and transportation.
They complained about the corrupt government, the media and about all the money that will be spent on sporting events in our country.
It is important to clarify that nobody is against the World Cup, but it just seems like something that is superficial and expensive when we have so many deeper social problems.
Unfortunately, during Monday's protest, the media showed the unfortunate episode where only around 100 people vandalised property, when the other 100,000 were protesting in a respectful and beautiful way.
Because of that, another event has been organised for Tuesday, to show that this is a legitimate movement.
Luckily for us on these days of protest, social networks allow us to share images and videos and encourage more and more people to come out and support us.
Theo Ueno, Sao Paulo
I was at the protests here in Sao Paulo on Monday. I was so excited that I had to come out and help spread the word of the people.
This is a tsunami of indignation on the part of the people here that could never have been predicted by any political analyst.
I've seen and participated in all kinds of gatherings here in Sao Paulo since I was a kid, but what I witnessed this time was totally unexpected to me.
It even tops the nationalism of the movements "for direct votes" in 1984.
I'm glad to have been able to take part in these protests.
I haven't felt a sense of union and common good like this since the protests against President Fernando Collor de Mello in 1992.
It's a real test for our democratic institutions.
I'm hopeful that the continuation of these protests will help to accelerate the process of correcting the course of a nation full of potential but which has, so far, been driven by negligent people.
Tiago Pace, Belo Horizonte
I was at the protests in Belo Horizonte on Monday.
It was a wonderful day for all Brazilian people who want to stand up for our rights.
Everyone who lives in Brazil knows just how high the cost of living is and how our government treats us.
They don't care about schools, hospitals or their citizens. They only care about the World Cup and the Olympic Games.
They have spent tonnes of money that could help saving lives. People die in hospitals because they don't have room for them and children grow up without a good education.
The people can't endure this any more. We have taken to the streets to fight for a better future for all of us.
We're trying to change all the problems that have got worse all these years, and because of that, we are getting shot at by the police - they are firing tear gas and hitting us violently.
A tear gas canister exploded really close to me today. Everyone was running and trying to escape the rubber bullets. It was a nightmare.
But it was wonderful too, because we are not going to stop. We are going to fight on with all our strength and try to show everyone around the world what is happening.