Brazil protests: President Rousseff meets activists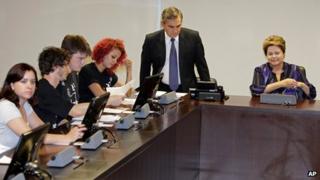 Demonstrations have broken out again in Brazil, as President Dilma Rousseff holds talks with protest leaders.
The president is trying to find ways to end the unrest which has erupted nationwide since 11 June, and has seen one million people take to the streets.
In one of Monday's demonstrations, hundreds of people blocked the main road to Brazil's busiest port, Santos.
Meanwhile, two women were killed in the state of Goias when a car hit a protest barricade. The driver fled the scene.
The two were part of a group of around 300 protesters setting up an early morning road block in Christalina.
Police say both victims were pronounced dead at the scene.
The deaths bring the total number of lives lost because of the protests to four. Further demonstrations are due later on Monday in the cities of Rio de Janeiro and Sao Paulo.
'No plan B'
Brazil is due to host both the 2014 Fifa World Cup and the Olympics in 2016, and many of those demonstrating are unhappy at the cost of building stadiums in a country where many live in poverty and ticket prices for such prestigious international competitions are out of reach.
Unrest has dogged many of the fixtures currently taking place in Brazil as part of Fifa's Confederations Cup, seen as a dress rehearsal for the World Cup and using many of the same facilities.
Fifa's Secretary General Jerome Valcke has said the organisation has "no plan B" for next year's World Cup and no other country had made an official offer to host it.
The wave of rallies in more than 100 cities began in Sao Paulo, where residents were unhappy at planned rises in public transport fares.
Those increases have since been shelved - but the protests rapidly became more widespread and the protesters' demands more wide-ranging.
Brazilians have been demanding better health and education services, saying they are fed up with paying relatively high taxes and feel that they do not get enough back from the state.
Protesters are also angry about corruption and scornful of politicians.