Nicaragua canal plan not a joke - Chinese businessman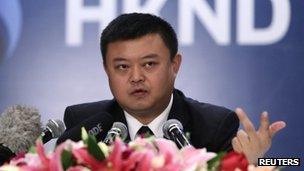 The Chinese businessman behind a $40bn (£26bn) plan to build a canal through Nicaragua has promised transparency and insisted his project is not a joke.
Wang Jing, the owner of Hong Kong-based HKND Group, told reporters he had attracted global investors and that work should start in 2014.
Mr Wang was given a 50-year concession by Nicaragua's Congress last week.
His project has generated a lot of scepticism from industry experts and criticism from environmentalists.
The idea of a canal through Nicaragua has been on the drawing board for more than 150 years.
Mr Wang hopes to build in less than six years a 286km (178-mile) waterway connecting the Caribbean with the Pacific via Lake Nicaragua, Central America's largest freshwater lake.
It would be three times longer than the Panama Canal, which took a decade to complete.
At a news conference in Beijing on Tuesday, Mr Wang dismissed criticism of his plan.
"We don't want it to become an international joke, and we don't want it to turn into an example of Chinese investment failures," he said.
Mr Wang insisted that early assessments had been favourable, and projected returns were "sure to make every investor smile broadly".
"The world trade has been so developed today that it needs a new canal," he added. "The Panama Canal is not enough for the trade conducted currently between East and West."
The 40 year old - who is the only public face of the project - offered little new information about himself, saying only that he came from an ordinary family in Beijing and that he had studied traditional Chinese medicine before becoming a businessman.
He also denied any family connection to the Chinese government, military or Communist Party.
"I am a very normal Chinese citizen. I couldn't be more normal," he insisted.
Mr Wang said his initial wealth had come from an investment in a Cambodian gold mine.
In 2010, he invested in the telecommunications company Xinwei Telecom Enterprise Group, which he has been credited with turning around, partly by expanding into overseas markets, including Nicaragua, according to the Associated Press.
However, an opposition politician in Nicaragua claimed earlier this month that the country had seen little of the $700m that Xinwei had promised to invest on its communications system.
Mr Wang told the Reuters news agency that HKND would head a consortium that would operate "fairly, impartially and openly". It would be financed by large Chinese companies and international banks, he said.
Related Internet Links
The BBC is not responsible for the content of external sites.