Sao Paulo robbery: Four held over Bolivian boy's death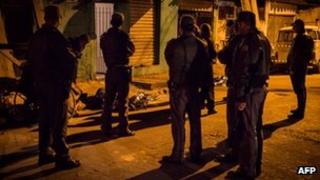 Police in Brazil say they have detained four men in connection with the murder of a five-year-old Bolivian boy in the city of Sao Paulo.
Brayan Yanarico Capcha was shot in the head by masked robbers who complained he was crying too much during a robbery at his family's house.
His family said the boy had begged the robbers not to be killed. He was in his mother's arms when they shot him.
Bolivian immigrants held a protest outside the local police station.
The crime shocked people in Sao Paulo - a city familiar with high levels of violence.
The Yanarico family had moved to Sao Paulo six months ago. They lived in a the Sao Carlos shantytown in the east of the city.
"All we want now is justice and for the culprits to be arrested. Then we will go back to Bolivia," said the father, Edberto Yanarico Quiuchaca, 28.
"We came here looking for better jobs, but all we found was violence."
'Don't kill my mother!'
Veronica Capcha Mamani, 24, said six robbers came to their house on Friday evening, where she worked as a seamstress. Five of the men were wearing masks.
"We gave them 3,500 reais ($1,550; £1,000). They were impatient and asked for more. We gave them another 1,000 reais, but that is all we had," she said.
"They put a knife on my son's neck, asking for more money. He was crying a lot," Ms Capcha said.
"Don't kill me, don't kill my mother!" were his last words, she said. "They were worried that his crying would alert the neighbours to the robbery."
A police officer working on the case, Antonio Mestre Junior, said the four men arrested lived in a nearby shantytown.
The parents have not yet decided whether the body of their only child will be buried in Brazil or in Bolivia.
"We need financial help to return. We have been trying to contact the consulate," said Mr Yanarico.
Tens of thousands of Bolivian immigrants live in Sao Paulo. Most of them live and work in very basic conditions.
Many, like the Yanarico family, speak very little Portuguese and Spanish. Their native tongue is either Aymara or Quechua, Bolivia's main indigenous languages.