Michelle Bachelet wins key Chile primary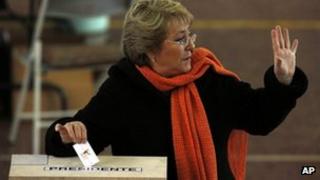 Chilean former President Michelle Bachelet has secured her place in November's presidential election by winning a key party primary.
Preliminary results from Sunday's poll show she cannot be caught by her rivals in the left-wing opposition coalition.
A primary was also held in the governing conservative Alliance for Chile. Results so far indicate a close race between two former ministers.
Sunday's primary elections were the first ever held in Chile.
Ms Bachelet - who served as president between 2006 and 2010 - won two-thirds of the votes for the New Majority coalition, the preliminary results suggest.
She has spent the past three years in New York as head of the United Nations gender equality agency and is still considered one of Chile's most popular politicians.
In the governing centre-right Alliance for Chile, former ministers Andres Allamand and Pablo Longueira were neck and neck.
Voters will choose a successor to President Sebastian Pinera on 17 November. Chilean politicians are prevented from serving consecutive terms.
President Pinera became Chile's first right-wing leader in 20 years when he was elected in 2010.
However, he has seen his popularity drop sharply since then, and in last month's local elections, his centre-right alliance lost some key races, including in the capital Santiago.