Dead fish fill Mexico reservoir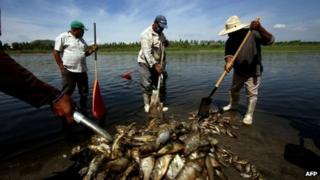 Tens of thousands of dead fish have washed up on the banks of a Mexican reservoir, amid allegations that a local firm contaminated the water.
Local Mayor Emeterio Corona said the firm had dumped hundreds of litres of molasses into a canal that flows into the reservoir in Jalisco state.
The fish had been starved of oxygen and died from asphyxiation, he said.
Local fishermen warned that their livelihoods had been put at risk by the disaster.
Some 180 families were reported to live off fishing on the reservoir. Images from the scene showed piles of carp and sea bream being gathered by local fishermen.
Mr Corona, mayor of Acatlan de Juarez, did not name the firm involved but said they had acted illegally.
"The environment and the sustenance of everybody [in the community] was damaged," he said.
"What will they live off? I'm outraged. This is a tragedy."