Guatemala extradites Zetas killer Daniel Perez Rojas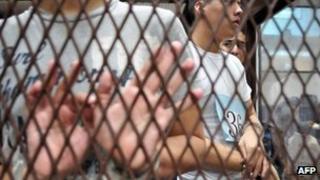 Guatemala has agreed to extradite to Mexico a feared leader of the Zetas drug cartel.
Daniel Perez Rojas was jailed for 47 years in 2010 in Guatemala for his part in the killing of rival gang members.
However, Guatemalan judges said there was no pending case against him so he should be returned to face justice in his own country.
He is expected to face trial in Mexico's Morelia state for drug trafficking, among other crimes.
Mexico's drug wars spilled over into Guatemala after 2006, when Mexico's government began using the army to combat the gangs.
Rojas was one of many Mexican gang leaders who tried to expand their turf south to Guatemala.
He was convicted in 2010 of playing a part in the murder of 11 people in Zacapa in eastern Guatemala in March 2008.
The killings were the result of a fierce battle between a Guatemalan drug gang and the Zetas cartel for control of the smuggling routes through Guatemala.
One of those killed in Zacapa was Juan Jose Leon, alias Juancho, who prosecutors said was a major Guatemalan drug trafficker.