Argentina tomato shortages prompt warning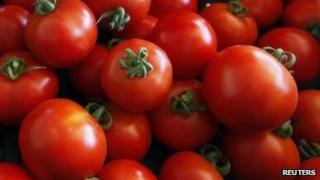 Argentines have been told to eat less of one of their favourite foods, the tomato, because of a seasonal shortage.
Prices of the fruit have been rising sharply and the government has asked consumers to adapt their favourite recipes and use other ingredients.
Argentinian dishes, including pizza and pasta are strongly influenced by Italian cuisine and feature tomatoes.
But families have been advised to make do without them until September, when a new harvest of the crop is expected.
"For seasonal reasons, involving crop rotations in the farms, the Central Market of Buenos Aires informs the public about a possible shortage of tomatoes," read a statement from the government's Office of Domestic Commerce.
"For this reason, and for a period of approximately sixty days, we suggest the use of alternative products."
However, the government added that all other staple fruit and vegetables were available in "excellent" supply.
The news comes as a further challenge to Argentine cooks who are still suffering from a flour shortage and higher bread prices that were triggered by one of the worst wheat harvests in Argentina's history.