Guatemala arrests over remote police station massacre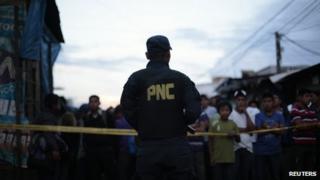 Guatemalan security forces have arrested four men accused of storming a remote police station a month ago and killing eight officers.
Two of the men arrested are policemen.
The accused are suspected of belonging to a local criminal organisation involved in drug trafficking.
More than 100 troops and policemen are taking part in an operation near the Mexican border to make further arrests, a Guatemalan government spokesperson told the Efe news agency.
At least another 10 people are being sought over their possible involvement in the June 13 attack in the municipality of Salcaja, prosecutors said.
The two policemen arrested are Milson Fredy Garcia Chavez and Emerson Villatoro Cano. The other suspects are Delmar Dagoberto Calderon Villatoro, known as Gringo, and Bacilio Quib Pacay, known as Bazooka.
'Cocaine route'
Nine police officers were on night duty at the police station in north-western Guatemala when heavily armed men entered the building and shot at them at least 40 times, investigators said.
The police station is located near the Pan-American highway, in Quetzaltenango department.
Eight policemen were killed on the spot. Their commander was taken away by the gang and is presumed dead.
The massacre had a big impact in Guatemala and angered the authorities, who have vowed to identify and arrest all the culprits.
The Central American nation is being increasing used as a transit route for cocaine produced in Colombia and smuggled into Mexico and the United States.
Guatemala has one of the world's highest homicide rates, says the the United Nations Office on Drugs and Crime (UNODC), with 38.5 crimes per 100,000 population in 2011.