Asafa Powell: Jamaica in shock over sports drug scandal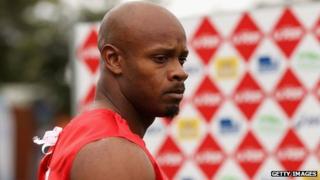 There are few things that shock Jamaicans. The recent dramatic fall of the Jamaican dollar against the US currency was met with resignation, and occasional spikes in the crime rate seem to have the same effect - an almost complacent attitude.
But the failed drug tests of the island's athletes have created almost an universal reaction of disbelief.
The island's two TV stations led with the only story that mattered - what and who was responsible. Front pages were also dominated by headlines that show how divided the nation was over the news.
One paper described it as a "day of shame", while others asked if "people had lost faith" with athletics.
On the streets of Stony Hill, near the capital Kingston, I asked a similar question but most withheld judgement.
'Brand Jamaica'
Jamaica - also known as "brand Jamaica" by the government and others hoping to capitalise on the island's many positives in what often seems like a sea of negative media portrayal - has seen athletics, and particularly sprinting, as a beacon of light.
This small island nation, with a population of less than three million, doesn't always have lots to shout about, but it takes pride in its athletes whose success shows people's determination to succeed and overcome challenges against all odds.
Usain Bolt is the current world record holder and Olympic champion over 100 and 200 metres. Before him, Asafa Powell had bragging rights to the crown of world's fastest man between 2005 and 2008.
Jamaica's women have had near equal success and for many, hearing that both the Olympic medallist Sherone Simpson as well as Powell had tested positive for banned substances meant 14 July was a tough day for the sporting world.
The news that American Tyson Gay, Bolt's closest rival, had tested positive for a banned substance broke earlier in the day.
With the World Championships happening in less than a month in August and Gay looking in formidable form, many were looking forward to a showdown in Moscow.
His test result was met with a more muted reaction than normal.
In the past, Jamaicans would have seen this as yet another example of how its northern neighbour has bought its way to success and cheated the island out of medals through pharmacology, but things have changed.
Last month, Jamaica's sweetheart, Veronica Campbell Brown, tested positive in her A and B samples.
The country was stunned, but people showed restraint after she denied cheating, saying she had been unaware that she had taken a medication containing a diuretic. Social media was abuzz but more with support than condemnation.
So when Gay's results came out, many were sympathetic.
However five positive tests for Jamaican athletes in one day is a lot to take on board.
The country should have been celebrating its medal haul at the World Youth Games in Ukraine - a curtain raiser before the World Championships in Moscow - as Jamaica came top of the table.
But instead of toasting the success of its juniors, it is now wondering what's in store for them and its seniors.