Brazil marks 20 years since Candelaria child massacre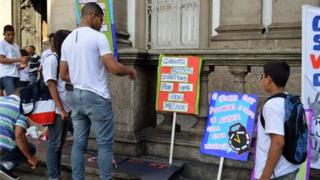 Over the last 20 years, slowly at first but increasingly conspicuously, Yvonne Bezerra de Mello's phone has fallen silent.
For two decades, Ms Mello, 66, has kept the same landline number at her spacious apartment in an affluent beachside area of Rio de Janeiro so that survivors of one of the worst child massacres in Brazil's history could keep in touch.
More than 60 young children sleeping rough outside Candelaria church in central Rio escaped alive after police summarily opened fire on them on a winter night in 1993. Eight children and teenagers died.
"I never changed my home number so in the first 10 years, they called me all the time," Ms Mello says, sipping camomile tea.
"I was in touch with the survivors for many years. Many of them have died. Little by little, they don't call any more. So the end was tragic."
Frantic call
For Ms Mello, a social worker and teacher who had worked with the Candelaria children for years before the massacre, the events of 23 July began with a phone call.
"They called me and said there was a lot of turmoil. There was a union protest and there was a lot of police," she says.
"I went there at 17:00. Then suddenly, the police came and they arrested one boy, who didn't belong to the group. He was sniffing glue. They were very upset and threw some stones at them. I stayed there until 20:00.
"There were no cell phones, no way to make a collect call from a public telephone. So I gave them three coins and I said if something happens, call me.
"That day, all my family went to bed and I stayed up watching television, fully dressed. They said I was the first one to get the call."
When Ms Mello arrived on the scene, she found the children, frantic and waiting for her to arrive.
After trying to revive the dying or dead, she organised the survivors and took them in her Volkswagen van, eight by eight, to the police station.
There are conflicting accounts of what was behind the shooting, which took place at 23:00. Some claim police wanted revenge for an earlier scuffle; others claimed they were off-duty officers paid to clear the city of street children.
Justice served?
According to an Amnesty International report, nine men were said to be involved in the shooting. After years of judicial proceedings, three police officers were jailed.
Nelson Oliveira dos Santos Cunha was sentenced to 261 years in November 1996, Marcos Aurelio Dias Alcantara was sentenced to 204 years two years later, and after repeated appeals, Marcos Vinicius Borges Emanuel, was jailed for 300 years in 2003.
Two of them have since been released. The third, Marcos Emanuel, received a pardon in June 2012 and was allowed to leave prison. But this year an appeals court overturned the pardon and now he is being sought by police.
"The anniversary of the crime is cause for reflection on the persistence of police violence in Brazil," Amnesty International said in a statement. "In the case of Rio de Janeiro, after two decades, there has been a succession of extrajudicial executions of the same type."
Short lives
In the meantime, it is suspected that almost all of the survivors have died, many in equally violent circumstances.
"The last two I heard from, one was shot three years ago and one girl was arrested and taken to a place for crazy people. Gina. They called me and said she talked about me," Ms Mello added.
Elizabeth Cristina Borges de Oliveira Maia, known as Beth to her friends, would have been around 35 today but was shot dead on her doorstep in 2000, the month before she was due to testify at an appeal hearing for Emanuel. Local press suggested it was a drug gang-related killing.
Sandro do Nascimento, 21, is the best-known of the survivors after he took a bus full of passengers hostage and was shot dead, along with one of his hostages, after a stand-off with police. His story was turned into the film Bus 174.
At a special commemorative mass at Candelaria church on Friday, Catholic pilgrims, campaigners and social projects gathered ahead of World Youth Day to remember the victims who died in the tragedy and since then.
White roses piled up beneath the cross outside the church where the names of the eight murdered children were painted.
"To this day, we don't know why the massacre happened," said Patricia Oliveira, 39, one of the organisers of the memorial. "It's a time to reflect once more."
New generation
The city authorities declined to comment on the anniversary, saying they were busy with preparations for the visit of Pope Francis, who arrived on Monday.
Flicking through the crayon drawings of the Candelaria children showing their brightly-coloured messages of peace and hope, Ms de Mello described how the situation on the street had changed.
After continuing to teach street children under a bypass for four years, Ms Mello has now opened her own school in the Mare complex of favelas. Projeto Uere is a model school with 480 children.
"Working the streets was very complicated and that's why I had to do prevention work, and I opened my school," she says.
"Today, it would be impossible to do this kind of [street] work with [the growth of consumption of] crack [cocaine]. With crack, they're like zombies.
"I think there are the same amount of kids neglected. There's a lot of street kids in Rio. They go to the streets because they can't come home. That happens, still today. If you see the small kids working, it's because their families send them.
"People can't live without love and they come to the streets to find love. The street was their family. They looked after each other, they held together their group.
"[The police officers] stayed in jail for maybe 11 years, not more. It's terrible. If they sentence them to 30 years, they should do 30 years. The problem in Brazil is impunity. This system, I can't change."