Brazil security forces criticised over policing methods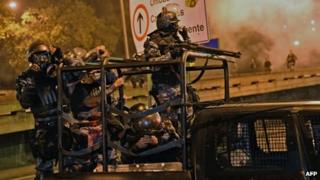 Soon after Pope Francis had been given a warm welcome to Rio de Janeiro at the state governor's palace on Monday, the mood soured.
Police clashed with groups protesting against the government and the cost of the visit, and at least one protester was injured by a rubber bullet fired at close range.
These clashes were just the latest in a series of violent confrontations between police and demonstrators, prompting criticism from human rights groups that the security forces are using excessive force and arbitrarily detaining protesters.
Amnesty International's director in Brazil Atila Roque says he has witnessed the "overuse" of tear gas, pepper spray and rubber bullets "in a totally indiscriminate manner, oriented not at people who were offering threat but simply to disperse people".
"We saw police chasing people, trapping them in the streets, in a bar, even a hospital, and then attacking them with tear gas," he said.
But Rio's Public Security Secretary Jose Mariano Beltrame says the security forces are trying to find a way to deal with the recent wave of mass protests.
"We are seeking a compromise, a path that means neither being evasive nor the abuse of authority," he assured the BBC.
Julita Lemgruber, the director of the Centre for Studies on Public Security and Citizenship at Candido Mendes University, thinks that there is a deep-seated culture of confrontation in Rio's Military Police, which has been at the centre of many of the confrontations.
"If you police the streets with the idea of war, you are going to deal with the people in the streets as enemies," she said.
Blinding flash
That attitude is something 26-year-old Renata Ataide says she experienced first hand.
On 20 June she joined an anti-government demonstration for the first time in her life.
As it turned out, she attended the largest and most violent in a series of protests originally triggered by a rise in public transport fares, but which soon came to include anger at poor public services, wide-spread corruption and police violence at previous protests.
A hardcore of protesters broke traffic lights, vandalised bus stops and smashed shop windows.
Ms Ataide says police made no distinction between those committing acts of vandalism and the peaceful majority.
"Suddenly I was being pursued by the police, without knowing what I had done," she recalled.
She remembers seeing two riot police officers in an alleyway and then something flew in her direction, landing right next to her.
After a loud boom and a flash of light, her face was covered in blood and she had lost the sight in her left eye.
She is suing the state in an attempt to recoup her medical expenses. Doctors have given her no hope of recovering her eyesight, but she still has to undergo several surgeries expected to cost tens of thousands of dollars.
"I am very sad that this happened in my country and that we must question the actions of a group that should protect us," she said.
"I will never be able to forget this - I will have to deal with it for the rest of my life."
Legacy of dictatorship
Ms Lemgruber says Brazilian police have a culture of violence which dates back to the country's military dictatorship from 1964 to 1985.
Even after the return to democracy, Brazil's 1988 Constitution kept the security structure of the military years, with two separate police forces: the Civil Police, responsible for investigating crimes, and the Military Police, responsible for policing the streets.
Reports of heavy-handed policing and the high number of injuries at recent mass protests have revived a public debate about police reform.
Ms Lemgruber says the key is to establish one single force which is not militarised.
The police say they are doing their best to respond to a difficult situation, where they are faced with mass demonstrations which are used by small groups of "vandals" to create trouble.
'Well-trained'
Juliana Barroso, who is responsible for police training in Rio's Public Security Department, says the force has been constantly re-examining its actions.
"Our riot police are well trained, they have the proper techniques and equipment.
"What may be missing is reflecting on where the limits are. When I am out there, when do I keep going and when should I stop?" she said.
Ms Barroso says riot police have been attending workshops with police forces from Spain, the United States and Germany in an attempt to improve and learn to act proportionately.
But lower ranking officers, who have been drawn upon to reinforce security at mass demonstrations, lack the same training.
They complain of exhaustion after long shifts, and feel misunderstood.
"People are fed up but it's not our fault. They don't realise that we're normal people just like they are," a young policewoman told the BBC while guarding a protest.
"Protesters and police are both humans and everyone makes mistakes. You can't say all protesters are troublemakers nor that all police are abusive," she pointed out.
One of her male colleagues said that while riot police are trained to deal with demonstrations, they were not.
"The truth is, we are here to bulk up the numbers. If a mob comes at us, we will run. We are not prepared to deal with the masses throwing rocks at us", he explained.