Bolivia leader Morales accepts apologies over plane row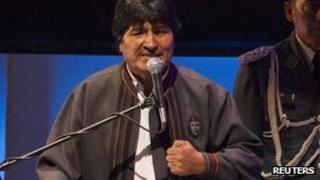 Bolivian President Evo Morales says he accepts the apologies from European countries which barred his jet from flying into their airspace last month.
The Bolivians accused France, Spain, Portugal and Italy of acting on an alleged US tip-off that the fugitive intelligence analyst Edward Snowden was onboard a plane flying from Moscow.
The Europeans apologised and said the decision had been due to mistakes.
Mr Snowden has been in the transit area of a Moscow airport since 23 June.
'Continue relationships'
Mr Morales said he was not "fully satisfied" with the apologies, but accepted them nevertheless.
"Because we want to continue relationships of respect among our countries - relationships which are complementary and in solidarity with consequence and in co-ordination with our ministries and the presidents - we have agreed to send our ambassadors back," he told reporters in the Bolivian capital, La Paz.
After his flight diversion, Bolivia had recalled their ambassadors to the involved countries.