Santiago cathedral closed after Chile abortion protest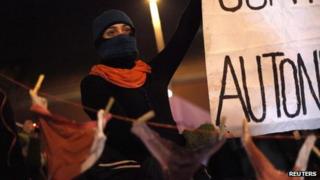 The Catholic cathedral in the Chilean capital Santiago is to remain closed for five days after it was vandalised by pro-abortion activists on Thursday.
About 5,000 protesters marched through Santiago in support of an 11-year-old girl who was raped, fell pregnant and is not allowed to have an abortion.
Some 100 demonstrators entered the cathedral, wrecking confessional booths and shouting insults at worshippers.
Abortion, even for medical reasons or in cases of rape, is illegal in Chile.
It was banned during the rule of Gen Augusto Pinochet, the military dictator who governed Chile from 1973 to 1990.
Chilean President Sebastian Pinera said his government "rejected" the protesters' actions, calling them "intolerant".
The cathedral will now be closed for five days so that it can be cleaned up and graffiti sprayed by the protesters removed.
The protest was sparked by the case of an 11-year-old girl named only as Belen.
She became pregant after she was raped repeatedly over a two-year period by her mother's boyfriend, who has since been arrested.
Belen appeared on TV, saying she would be happy to have the child. President Pinera praised her for her "depth and maturity", sparking an outcry.
Chile is one of only two countries in South America where abortion is strictly illegal.
Former President Michelle Bachelet, who is running for re-election in November, has called for abortion to be legalised in cases where the mother's life is in danger.