Colombia says Farc 'accountable' for violence as talks resume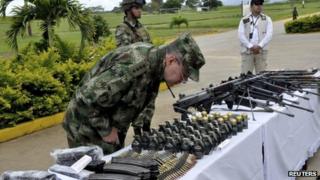 Chief Colombian government peace negotiator Humberto de la Calle has said the leftist Farc rebel group will be held to account for all the acts of violence it has committed.
His comments come as peace negotiations resume in Cuba aimed at ending more than five decades of conflict.
Mr de la Calle reaffirmed that the army would continue fighting until the end.
More than 220,000 people are estimated to have been killed in the conflict, most of them civilians.
"I must remind you that the government has decided not to agree a ceasefire until, of course, the conflict comes to an end," said Mr de la Calle.
"If we sign a final peace accord, then the Farc will be able to get into politics. But in a democracy and without weapons, only after they demobilise."
The current round of negotiations is intended to focus on the Farc's transition into formal politics.
But a Farc negotiator in Havana confused journalists by reading a statement making reference to land reform, an issue on which there was agreement in May.
"There would be no point in discussing land reform in Havana if the government continues to reduce what has been agreed to empty words which vanish in the wind," said Andres Paris.
'Worse than war'
The talks were launched last November in the Cuban capital, 10 years after the failure of previous face-to-face negotiations.
At the time, the Colombian government was accused of being naive by agreeing to a ceasefire and allowing the rebels to operate in a vast demilitarised area.
But the government of President Juan Manuel Santos has decided to continue fighting the rebels until they give up their armed struggle and join the legal political process.
There is huge pressure in Colombia, however, for justice for those who have perpetrated acts of violence from both sides of the conflict.
"The guerrilla will be held to account for everything that has happened during the conflict," said Mr de la Calle.
The rebels say most of the victims were poor peasants and other civilians targeted by the army and right-wing paramilitaries for their alleged support to the rebels.
Earlier this month, the main Farc negotiator, Ivan Marquez, said Colombia had to prepare for peace as the conflict was "nearing an end".
The government said a final settlement must be agreed by November. The Farc warned of the dangers of rushing into a settlement.
"It is possible [to reach an agreement by November]. But to achieve peace you need time. A bad peace deal is worse than war," he said in an interview with Colombian network RCN.
His comments came days before at least 15 soldiers were killed in an ambush near the Venezuelan border in an ambush the government blamed on the Farc.