Christian Benitez: Thousands mourn Ecuador footballer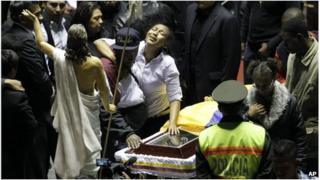 Thousands of Ecuadoreans are saying their last goodbye to the football star Christian Benitez, in a sporting arena in the capital, Quito.
Benitez, who died of heart problems in Qatar on Monday, played in Mexico and Britain as well as for Ecuador's national team.
Fans started queuing in the early hours of the morning shortly after the arrival of their idol's body on Friday.
President Rafael Correa is expected to pay his respects at the end of Friday.
Preliminary results from an autopsy conducted in Qatar suggest that a previously undetected heart condition was to blame for Benitez's death, Ecuadorean media say.
The body of Benitez was flown in from Qatar by charter flight and arrived early on Friday.
By then, a crowd of hundreds had already gathered at the airport.
'Destined to die'
Before being driven to the Coliseo Ruminahui sports arena, the body of Benitez was autopsied for a second time at the cemetery where he will be buried on Saturday, in the outskirts of the capital.
"He had a deficiency in one of the coronary arteries, but this could only have been detected after his death. For this coronary condition, he was destined to die, sooner or later. This is what the doctor told me," Luis Chiriboga, the president of the Ecuadorean Football Association told reporters.
Fans were being allowed only a few seconds to say their goodbye, only friends and relatives were authorised to stay inside the arena.
Ecuador's President Rafael Correa was expected to mourn the footballer later on Friday.
The Ecuador international, 27, was admitted to hospital with severe stomach pains shortly after making his debut for El Jaish on Sunday.
He died hours later and his club confirmed that "official medical reports stated that the sudden death was caused by heart failure".
El Jaish said they would cover all costs of returning Benitez's body to Ecuador.
Benitez, capped 58 times by his country, spent the 2009-10 season on loan at Birmingham from Santos Laguna but returned to the Mexican side when the St Andrew's club decided not to sign him permanently.