Chilean judge rejects murder charge against Gen Matthei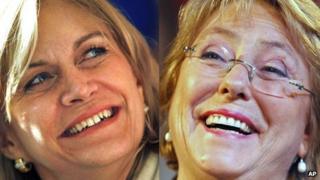 A Chilean judge has rejected a request by a human rights lawyer to prosecute former Gen Fernando Matthei for murder.
Gen Matthei was the director of a military facility where Gen Alberto Bachelet was tortured to death months after the 1973 military coup.
Their daughters - Evelyn Matthei and Michelle Bachelet - are running against each other in the November presidential election.
"There are no grounds for the requested prosecution," said judge Mario Carroza.
Human rights lawyer Eduardo Contreras argued that there was new evidence showing that Gen Matthei knew about the death of Gen Bachelet.
Michelle Bachelet's father refused to back the military coup led by Gen Augusto Pinochet and was accused of treason.
He died in prison after being submitted to systematic torture.
'Family friends'
This is Mr Contreras's second attempt to have a case opened against Gen Matthei.
Mr Contreras, who represents the families of victims of the Pinochet regime, says he will appeal.
Gen Matthei's lawyers argued that he took over the military facility after the death of Gen Bachelet.
The 88-year-old general has not spoken publicly about the case.
Evelyn Matthei was chosen last month to run against former left-wing president Michelle Bachelet in the 17 November poll.
Ms Bachelet is leading opinion polls to succeed centre-right President Sebastian Pinera.
If she fails to get 50% of the vote in November, a runoff will be held on 15 December.