Panama: UN probes North Korea arms shipment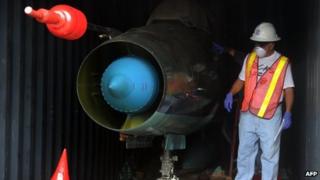 UN officials have begun inspecting an arms shipment found on a North Korean ship, Panama's security minister says.
The Chong Chon Gang was seized last month on the Panama Canal. Inspectors looking for drugs found Cuban arms and two Soviet-made MiG-21 fighter jets.
Cuba says the weapons were being sent to North Korea for refurbishment.
UN experts will prepare a report for the UN Security Council, which must decide whether the shipment violates a ban on arms transfers to North Korea.
The UN team will spend four days interviewing the 35 North Korean crew, anti-drug prosecutor Javier Caraballo told the Associated Press news agency.
Heading the inspection team is David Martin Uden, who used to be Britain's ambassador to South Korea.
Weapons systems including anti-aircraft and guidance systems, missiles, explosives and command-and-control vehicles were found buried under a cargo of sugar.
The Chong Chon Gang left Russia's far east on 12 April and travelled across the Pacific Ocean before entering the canal at the start of June, with Cuba as its stated destination.
The ship disappeared from satellite tracking systems after it left the Caribbean side of the canal, resurfacing on 11 July.
Experts say this may indicate that the crew switched off the system that automatically communicates details of their location.
It was stopped near Manzanillo on the Atlantic side of the canal on 15 July.