Nicaragua to drill for oil off Caribbean coast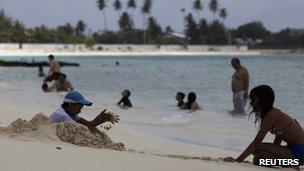 Nicaragua says it will begin drilling for oil and gas off its Caribbean coast in an area that belonged to Colombia until last year.
Energy Minister Emilio Rappaccioli said a US company would begin exploratory work at the Old Providence barrier reef this weekend.
The area was granted to Nicaragua in November after a decades-old dispute with Colombia.
Campaigners say the project will harm the environment of the area.
Last year the International Court of Justice (ICJ) in The Hague rejected Nicaragua's claims to a group of islets in the Caribbean but extended its sea boundaries.
The decision gave Nicaragua more access to fishing grounds as well as reported underwater oil and gas deposits.
"We have allocated blocks for exploration in the search for oil and gas in the territories as defined by the court," said President Daniel Ortega, announcing the new project.
Government spokeswoman Rosario Murillo said the initial drilling, by Noble Energy, would take place about 168km (104 miles) offshore.
The Old Providence reef is one of the largest barrier reefs in the Americas and campaigners warn that the exploratory drilling will damage its fragile environment.
Colombia strongly disagreed with the extension of Nicaragua's sea boundaries.
However, the ICJ ruling is binding.
Nicaragua and Colombia signed a treaty in 1928 to settle the border and sovereignty of islands in the Caribbean.
But in 1980, Nicaragua's Sandinista government unilaterally annulled the agreement, arguing that it had been signed under US pressure.