Seized Brazil pet monkey back with family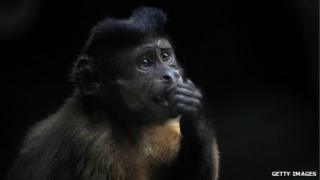 A pet monkey seized by environmental police in Brazil, after living for nearly 40 years with a family, has been returned after an injunction order.
The capuchin monkey named Chico was taken to a nature reserve two weeks ago, following an anonymous complaint.
Thousands of Brazilians signed online petitions asking for it to be returned to its owners in Sao Carlos.
Biologists have now told the family to adapt the monkey's diet and living conditions to specific requirements.
They have also discovered that despite the fact it was named and treated as a male, it is in fact a female monkey.
'Looks like a boy'
However Chico's 71-year-old owner, Elizete Farias Carmona, said she would not change the way she treats "her son" nor use the female name, Carla, that biologists have given the animal.
"After all, it looks like a boy doesn't he?" she told Brazilian Globo TV moments after an emotional reunion.
The animal jumped out of a cage straight into the arms of its owner, after travelling some 300km (190 miles) from a nature reserve in the city of Assis.
In Mrs Carmona's house, Chico has his own bed and was fed with milk, fruits and his favourite Brazilian dishes.
But specialists will now keep now keep an eye on the family to make sure the monkey only gets fruits and appropriate rations.
Mrs Carmona said she had been given the animal in 1976 by a family friend who worked as a lorry driver.
In her injunction, the Brazilian judge Gabriela Muller Carioba Attanasio argued that there was no point in trying to change the monkey's environment when it was close to the end of its life expectancy.
"Some studies suggest that animals kept in captivity for long years cannot feed themselves nor fend for themselves," the judge wrote.
Campaigners say Brazilian law is flawed, as it allows wild animals from other parts of the world, such as tigers, lions and many types of birds, to be kept at home. But wild native animals cannot be kept as pets.