Chile election chief Cheyre quits in child-abduction row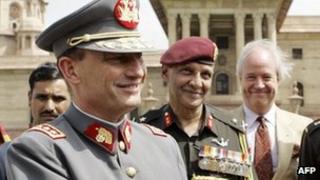 Chile's election chief has quit days after he admitted handing over for adoption the son of two murdered left-wing activists after the 1973 coup.
Juan Emilio Cheyre, who was a soldier at the time, said he had a clear conscience because he had believed the boy's parents had killed themselves.
In fact, a patrol of soldiers had tracked them down and murdered them.
Gen Cheyre, who served as army chief between 2002 and 2006, became election commission president earlier this year.
Families of victims of Augusto Pinochet's dictatorship had called for his resignation.
Gen Cheyre said he was stepping down so that the election commission could continue its work without being distracted by other issues.
"My conscience is at peace and I feel free from all legal and ethical questions," he said.
The boy, Ernesto Lejderman, was eventually raised in Argentina by his grandparents.
Mr Lejderman, now 40, said he did not think Mr Cheyre should face charges over the incident.
But he has criticised the former army chief for waiting 40 years to speak about the affair.
Thousands of left-wing activists were killed or disappeared in Chile under Gen Pinochet's 1973-1990 rule.
Mr Lejderman's parents, Argentine Bernardo Lejderman and his Mexican wife Maria Avalos, fled to a remote mountain valley after Gen Pinochet came to power.
They were hunted down by an army patrol and killed.