Mexico teachers bar MPs from chamber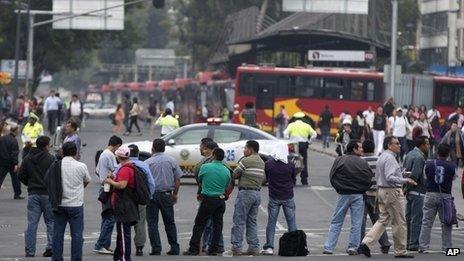 Protesting teachers have blocked access to Mexico's parliament, forcing MPs to hold a debate on education reforms in a convention centre.
The teachers have blocked roads around the parliament all week, and clashed with police on Monday.
They are incensed by reforms that would curb union powers and ban practices such as buying and selling posts.
The Chamber of Deputies is debating how to implement the reforms, which were signed into law in February.
Late on Wednesday, they overwhelmingly backed a proposal to establish a centralised body to assess teacher performance.
The unions say the reforms could lead to big lay-offs, and critics also suggest they may be paving the way for the privatisation of Mexico's education system.
Mexico's school year began on Monday, but thousands of teachers are out on strike, particularly in the southern state of Oaxaca.
Officials estimate more than one million children are currently out of school because of the strikes.
Francisco Bravo, of the CNTE union, said 50,000 teachers had descended on the capital from across Mexico to protest against the legislation.
"Our demand is for them not to vote on the laws, that they suspend the process, and that we enter into negotiations that take the teachers' point of view into consideration," he told the AFP news agency.
President Enrique Pena Nieto signed the education law in February, but parliamentarians need to draw up separate legislation to implement it.