Colombia recalls Farc peace talks team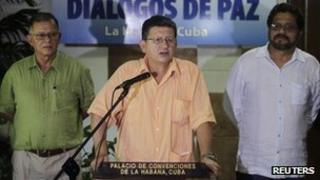 Colombia's President Juan Manuel Santos says he has recalled government negotiators "immediately" after Farc rebels announced a "pause" in peace talks.
He said he wanted to assess the Farc's decision, adding that talks would resume "when we deem it appropriate".
The Farc said it wanted to study a proposal that any peace deal must be put to a referendum.
The talks have been taking place in Cuba since last November.
"In this process it is not Farc who will dictate pauses and impose conditions," said Mr Santos.
"I therefore have made the decision to call the negotiators back immediately to evaluate the reach of the (Farc) statement and the Farc's behaviour.
"We will resume talks when we deem it appropriate."
Earlier, Colombian media reported that Farc negotiators were looking to resume talks as early as Monday.
On Thursday, President Santos submitted the proposal seeking to hold the referendum on the same day as congressional elections next March or coinciding with a presidential poll two months later.
But in a statement read in Havana by top Farc negotiator Pablo Catatumbo, the rebels reiterated that they have proposed a Constituent Assembly instead, hoping to later change the nation's constitution.
"Under the new circumstances… the Farc's peace delegation has decided to make a pause in the discussions to focus exclusively on the analysis of the government proposal," said Mr Catatumbo.
The peace talks in Cuba began last November, and the Farc's move was the first time either side had broken off negotiations other than for planned recesses.
The latest round was focusing on the eventual participation of the rebels in Colombian politics.
A recent study by Colombia's National Centre for Historical Memory suggested 220,000 people have died as a result of the five decades of internal conflict.
There is huge pressure in Colombia for justice for those who have perpetrated acts of violence from both sides of the conflict.
The government has promised to bring to justice those responsible.
The rebels say most of the victims were peasants and other civilians targeted by the army and right-wing paramilitaries for their alleged support to the rebels.
However, earlier this week the Farc for the first time admitted some responsibility for the suffering of victims, saying its forces had also caused cruelty and pain.