Rat infestation prompts Buenos Aires tribunal strike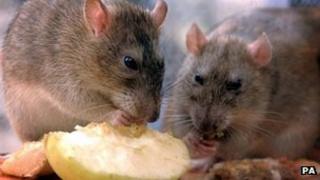 Judicial workers at an employment tribunal in Buenos Aires have gone on strike because of a rat infestation in their building.
The stoppage was initially declared for 24 hours.
However, the workers, backed by their union, said they they would not return to work until the situation was resolved.
The building in central Buenos Aires housing the tribunal is said to have been invaded by the rodents.
The judicial workers demanded a swift eradication programme be implemented.
"The building must be cleared of rats, disinfected and thoroughly cleaned", they said in a statement.
They said the rats posed a serious health hazard as they can carry disease.
The workers described the infestation as an affront to the dignity of the tribunal.
"Paradoxically, it judges and sentences those who impinge on the rights of workers," said the statement.
A company contracted to get rid of the rats said it would be done by Saturday.