Hundreds arrested in Chile clashes on coup anniversary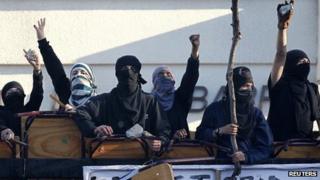 Police in Chile say they arrested more than 260 people during protests marking the anniversary of the 1973 military coup.
Officials said 42 police officers were injured in clashes with demonstrators on Wednesday night.
Among those injured was a police general who was struck in the head with a petrol bomb.
President Sebastian Pinera called on judges to punish those behind the clashes "with severity".
"The violence we saw last night has absolutely no justification," Mr Pinera said after visiting some of the injured police officers in hospital.
He said that organised groups were behind the violent acts, and they were joined by common criminals.
The president called on the population to back him in his rejection of such incidents.
Troublesome anniversary
More than a dozen cars and buses were set alight during the protests, and electricity lines were severed, prompting power cuts in 200,000 homes in the capital, Santiago.
Police said six of their officers had been seriously injured, including at least one who had suffered acid burns.
The government had deployed more than 8,000 police throughout the capital to prevent a repeat of the violence seen in previous years.
The BBC's Gideon Long in Santiago says 11 September - the anniversary of the coup which led to 17 years of military rule - is always a divisive date in Chile and invariably ends in clashes between left-wing protesters and the police, who respond with tear gas and water cannon.
Some 40,000 people suffered human rights abuses in Chile under military rule from 1973 to 1990. More than 3,000 were killed or forcibly disappeared, their bodies buried in unmarked graves or dumped at sea.
And more than 1,000 human rights cases are still ongoing in Chilean courts.