Colombia bar stampede deaths in Bogota after police raid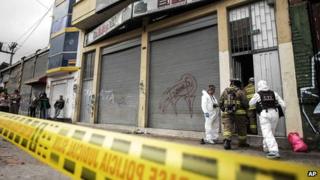 Six people were killed and five injured in a stampede triggered when police raided a crowded bar in the Colombian capital Bogota, officials say.
Officers were called to the venue after reports of a brawl.
Chaos broke out after some form of gas was released and patrons tried to leave the premises, authorities say.
Witnesses accused police of causing the deaths by throwing tear gas and using excessive force. A federal probe has been launched into the incident.
More than 180 people were crammed into the small bar, according to local media reports.
Officials confirmed five men and one woman were killed during the stampede.
"There must be an investigation as to how this gas came to be inside this place and that's why the attorney general's office is involved," Bogota Police Chief Luis Eduardo Martinez said.
Two officers have reportedly been suspended as part of the case.
'Like animals'
Mayor Gustavo Petro has strongly criticised the police team's tactics.
"It cannot be that a police intervention kills more people than if they had not intervened," he wrote in a post on Twitter.
"The problem lies in the methods of intervention."
The incident took place around 4:00 local time (9:00 GMT) on Sunday in the southern neighbourhood of Restrepo.
Bar owner Luz Marina Pena said police threw the gas after they were unable to gain access to the building because the doors were locked.
"They began pounding down on the door and throwing tear gas below," she told reporters.
"They came in like animals, hitting people, clashing with the doorman. People began to choke. I opened the door for people to leave and police would not let them."