Sixteen killed in Venezuela Sabaneta prison violence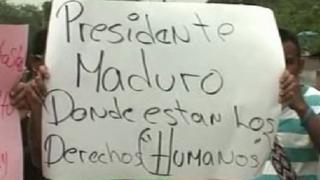 At least 16 prisoners have been killed in violence inside a jail in the western Venezuelan city of Maracaibo.
Fifteen inmates died in fights between rival gangs, Prisons Minister Iris Varela said. The other victim was killed in a separate incident.
Some of the inmates were beheaded and others dismembered, pressure group Venezuelan Prison Observatory told AFP news agency.
Prisons in the country are heavily overcrowded.
Ms Varela said the incident at Sabaneta prison had been "the result of an internal war within the prison".
She called for an end to the violence, which began on Monday night. "We don't want even one more death. Enough of the violence," she said.
Director of the Venezuelan Prison Observatory Humberto Prado said this latest incident made Sabaneta the most violent jail in the country, with 69 people killed behind its bars so far this year.
It was also the site of one of Venezuela's biggest prison tragedies, when more than 100 inmates died in a 1994 fire believed to have been caused by inmates seeking revenge on a rival gang.
About 3,700 inmates are imprisoned in Sabaneta, which was built to house 700.
Venezuela has one of the highest crime and homicide rates in Latin America and the judicial system is struggling to cope with the caseload. The prison population has been increasing with many of those incarcerated waiting for trial.
Mr Prado said 80% of prisons in Venezuela were run by armed inmates, with the security forces having little or no control.
A relative of a prisoner who did not want to be named told the AP news agency she was disappointed with the lack of government response.
"When will these massacres cease? We want the government's presence in Sabaneta National Prison. More and more dead and Minister Varela does not visit this prison," she said.
Ms Varela said she would travel to the jail on Wednesday and also announced an official investigation into the killings.