US denies Venezuela's Maduro airspace ban accusations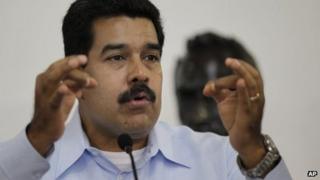 The US State Department has denied accusations from Venezuelan officials that it had banned President Nicolas Maduro's plane from using its airspace.
The US says a last-minute authorisation was issued late on Thursday for the request lodged a day earlier, rather than the three days' notice required.
Mr Maduro called the alleged ban "a serious offence".
He also accused the US of refusing to issue a visa to a top official in order to attend a UN meeting next week.
Venezuelan Foreign Minister Elias Jaua called the move an "aggression".
But US officials complained that the request had been put in with one day's notice, when the official requirement is three days.
"Although the request was not properly submitted, US authorities worked with Venezuelan officials at the Venezuelan Embassy to resolve the issue. US authorities made an extraordinary effort to work with relevant authorities to grant overflight approval in a matter of hours," a spokesman for the US Department of State said.
Diplomatic strains
The US also said the approval was made more complicated by the fact the Mr Maduro's flight was not on a state plane, which required further diplomatic clearance.
Venezuela's relations with the US have been often been strained, both under Mr Maduro's predecessor Hugo Chavez and since his own election in April.
Mr Maduro had said that US authorities had barred his plane from travelling over the Caribbean island of Puerto Rico, a US territory, on his way to China.
In July Venezuela announced that it had "ended" steps towards restoring diplomatic ties with the US, after a top American diplomat referred to a "crackdown on civil society" in Venezuela.
Washington had also angered Caracas by backing the Venezuelan opposition's demand for a full recount of April's presidential election which was narrowly won by Mr Maduro.
The two countries last had ambassadors in each other's capitals in 2010.