Mexico Heaven bar murders: Three police officers arrested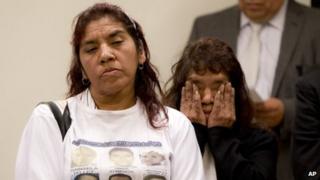 Three police officers have been arrested in Mexico on suspicion of being linked to the murders of 12 young people who disappeared after they visited a bar in Mexico City in May.
Two of the men arrested are local officers who were working in the Zona Rosa entertainment district, where the 12 disappeared.
Their bodies were found in August in a mass grave near the capital.
The case has shocked Mexico City residents.
Mexican police have released no details about a third officer arrested later on Tuesday.
Eighteen people in total have been detained in connection with the case.
Daytime disappearance
Prosecutors said they suspected the officers of taking part in the kidnapping of the youths from the Heaven bar and their transport to Tlalmanalco, where their bodies were discovered months later buried under quicklime and mud.
The arrests come a week after another police officer was detained in connection with the same case.
Among the suspects already held are two co-owners of the Heaven bar and two employees who were working on the night of the incident.
Another co-owner was found burned to death in July. Police had been searching for him at the time of his killing.
The kidnapping of the 12 in broad daylight from the popular Zona Rosa neighbourhood on a Sunday morning had raised question about security in the capital.
Surveillance footage showed some of the victims being led to cars outside the after-hours bar.
The footage showed no force being used and the men who took the 12 away were not masked and did not seem to be carrying weapons.
Investigators said the apparent lack of coercion could mean the victims knew their assailants or were tricked into leaving with the men.
Mystery body
Relatives of the victims have accused the police of not investigating the case properly because the victims came from a crime-ridden part of the capital.
They say that even though three of them were related to jailed local crime bosses, the victims, aged between 16 and 34, were not involved in any gangs.
Mexico City officials suspect the 12 were abducted and killed in revenge for the murder of a gang boss in their neighbourhood earlier that month.
There has been confusion about the identity of a 13th body found in the same mass grave.
Police originally withheld the identity of the victim, saying it was "a key piece" in the case, leading local media to speculate it may have been the person who set the other 12 up.
The body was later identified as an acquaintance of two of the other victims. It remains unclear what role, if any, he played in the kidnapping.